---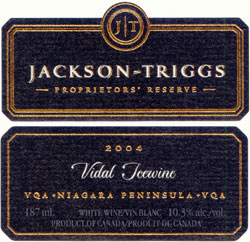 Jackson-Triggs Niagara Estate
2004 Vidal Icewine - Proprietors Reserve
(Niagara Peninsula)
Canada's Niagara Peninsula is on the same latitude as the Languedoc Roussillon in France and Italy's Tuscany, but lacks the benefit of a balmy Mediterranean climate. Fortunately, the certainty of freezing temperatures has benefited the industry by assuring the production of icewine each year. That vines can survive Ontario winters at all is due to the mitigating influence of the lakes Ontario and Erie.

Hearty hybrid grapes are another ace in the hole for local winemakers. Vidal Blanc, a popular hybrid variety derived from a cross of Ugni Blanc and early French American hybrid Rayon d'Or, is ideal for icewine production with its high yields, thick skin and high acidity, not to mention its intoxicating aromas and flavors. Thick skin enables the clusters to withstand the elements, especially the repeated freezing and thawing in November and December.

Icewine production in Canada is regulated by the Vintners Quality Alliance. Only naturally frozen grapes are allowed. The grapes are harvested, and pressed, while frozen, yielding an intensely flavored and concentrated juice. This Vidal icewine is as good as they get, with intoxicating notes of musk, honeysuckle, Greek lavender honey, and peach nectar, its silky texture, and brilliant natural acidity perfectly balancing the decadent sweetness.
Reviewed January 9, 2007 by Catherine Fallis.
Other reviewed wines from Jackson-Triggs Niagara Estate
---
Winery: Jackson-Triggs Niagara Estate
Vintage: 2004
Wine: Vidal Icewine - Proprietors Reserve
Appellation: Niagara Peninsula
Grape: Vidal Blanc
Price: 375ml $45.95



Catherine Fallis

Founder and President of Planet Grape LLC, a company committed to bringing the joy of wine, food, and good living into the lives of everyday people, Catherine is creator of the "grape goddess guides to good living," a series of books, television presentations, seminars, and e-learning programs. The fifth woman in the world to become a Master Sommelier, grape goddess Catherine Fallis is still very much down-to-earth.