---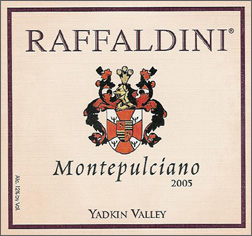 Raffaldini Vineyards and Winery
2005 Montepulciano
(Yadkin Valley)
It's exciting that, among some three or so Montepulcianos that are produced in the U.S., a very good one is grown and made in North Carolina at Raffaldini. This variety is native to central Italy, where it is used for the red wine of Abruzzi (Montepulciano d'Abruzzo), as well as in the Marches DOCs of Rosso Conero and Rosso Piceno, where it is blended with Sangiovese.

According to Steve Lyons, a partner with the Raffaldini family and a grower in the Yadkin Valley, four acres of Montepulciano were planted in 2002. "We will be adding two more acres in the spring of 2007," said Lyons. That is good news. The 2005 has been "flying out the door" since its release this fall—not too surprising when you taste its dark cherry and ripe blackberry flavors. The color is as dark and dense as Petite Sirah.

The Raffaldini family has a long heritage with wine in Italy, dating to the 1300s in Mantua (notable as the birthplace of the poet Virgil). The current generation settled in the Swan Creek area of North Carolina's Piedmont region, experimenting with several Italian varieties, including Sangiovese, Nebbiolo, Vermentino (previously reviewed) and soon, Aglianico. The 2005 Montepulciano is the best of Raffaldini's red wines, which are gaining in concentration and character with each vintage, demonstrating that Italian grape varieties have exciting potential in this part of the country.
Reviewed January 9, 2007 by Barbara Ensrud.
Other reviewed wines from Raffaldini Vineyards and Winery
---
Winery: Raffaldini Vineyards and Winery
Vintage: 2005
Wine: Montepulciano
Appellation: Yadkin Valley
Grape: Montepulciano
Price: 750ml $15.00



Barbara Ensrud

Barbara Ensrud has been writing about and reviewing wines since 1979, with a nationally syndicated column for the New York Daily News and numerous other publications. Her "no numbers" approach to evaluating wine is simple: how does it taste – on its own, as well as with particular foods? Is it good value, whether $10 or $210? Does it measure up in terms of varietal character and regional identity? …"When I taste a good wine, I can't wait to share it with fellow wine lovers."