---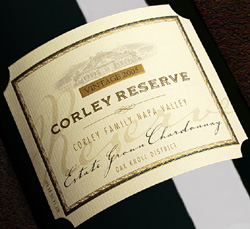 Monticello Vineyards|Corley Family Napa Valley
2005 Corley Reserve Chardonnay, Estate
(Oak Knoll District of Napa Valley)
Amongst the challenges, when tasting a wine for review, is to determine – guess, would be the more accurate term – if the wine is ready now or in the distant future; and by extension, how far a future? One rarely has to do that these days with a Chardonnay from California, since as with the current state of affairs of our society, things are made for now. But this Chardonnay is different.

It's an anomaly in that it's made for the long haul. The first part of the assessment is rather straightforward. There are some oak and tropical fruit aromas and the wine is lush and thick. But here's where the difficult part comes in: I suspect there's good acidity back there someplace, but all the oak, the voluptuousness and the ripeness of the fruit at the moment is superseding the acid. Will the latter ever emerge?

Thus, don't even think of drinking it now, unless, of course, you love this unctuous style. Otherwise, hold onto it for two to three years when I believe it will begin to settle in, open up and the aforementioned hoped-for acidity crawls out into the brightness. If that's the case, the wine will age for a good 15 years.

The wine was barrel fermented and aged in French oak, 50 percent of which was new. The listed alcohol is 14.1 percent, and there were but 267 cases produced.
Reviewed January 19, 2007 by Alan Goldfarb.
Other reviewed wines from Monticello Vineyards|Corley Family Napa Valley
---
Winery: Monticello Vineyards|Corley Family Napa Valley
Vineyard: Estate
Vintage: 2005
Wine: Corley Reserve Chardonnay
Appellation: Oak Knoll District of Napa Valley
Grape: Chardonnay
Price: 750ml $40.00



Alan Goldfarb

Alan Goldfarb has been writing about and reviewing wine for 17 years. His reviews have been published in the St. Helena Star, San Jose Mercury, San Francisco Examiner, Decanter, and Wine Enthusiast, among others. Not once has he used a point system, star system, or an iconic symbol to quantify a wine. What counts in Mr. Goldfarb's criteria when judging a wine is: how it tastes in the glass; is it well-constructed; its food compatibility; and presence of redeeming regional attributes.