---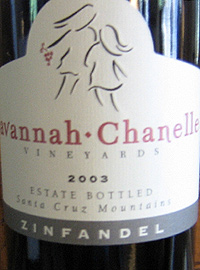 Savannah-Chanelle Vineyards
2003 Zinfandel, Estate
(Santa Cruz Mountains)
The svelte, dark-rich color of this wine prepares you for its gorgeous nose of ripe ollallieberries and blackberries. There is a touch of sweet oak with a nice note of nutmeg. This is such a classic Zin nose, that if you were blindfolded and told you were in Amador, you would not blink. Yet, were we to share that this libation comes from the Santa Cruz Mountains, you would indeed do a double-take.

This wine is so smooth and so beautifully made, that once you've indulged, you will want to know why more Zin doesn't taste this way. There are two reasons: one, it originates from mostly old vine, head-trained fruit, which was planted in 1910 and thereafter; and two, it is made by one very prudent and careful winemaker who respects each and every varietal for its unique character. That would be Tony Craig, winemaker extraordinaire at Savannah-Chanelle and prior to that, at David Bruce Winery. Tony shares that due to the intense acidity of the estate Zin, he really has to get the grapes a lot riper than he'd like, which pushes the alcohol way up. However, he does such a good job of keeping it in balance that you don't even notice the alcohol. Until you stand up.

Seriously, this is wonderful, beautifully made, stylish and elegant Zinfandel. It may be the best I've ever had: right up there with the outrageous Dusi Zins from Dover Canyon in Paso. It has all the old-time flavors and all the ripe characteristics of present day farming. This wine is not necessarily dessert, although it could certainly pair with a berry tart with cocoa flavored whipped cream. Because it has a respectable thread of acid, this Zin would also be terrific with pork ribs in ginger-tamari sauce, or Portobello mushrooms with rosemary olive oil and a dab of chocolate port. Or, just sit and sip it after lunch as I did with my winemaker girlfriends. We were all in Zin-Nirvana.

(Alc: 15.8%; price: $25.50 – available to Club members only)
Reviewed January 21, 2007 by Laura Ness.
Other reviewed wines from Savannah-Chanelle Vineyards
---
Winery: Savannah-Chanelle Vineyards
Vineyard: Estate
Vintage: 2003
Wine: Zinfandel
Appellation: Santa Cruz Mountains
Grape: Zinfandel
Price: 750ml $25.50



Laura Ness

A wine writer and wine judge for major publications and competitions around the country, Laura Ness likens wine to the experience of music. She is always looking for that ubiquitous marriage of rhythm, melody, and flawless execution. What is good music? You know it when you get lost in it. What is good wine? It is music in your mouth.