---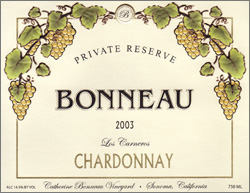 Bonneau Wines
2003 Chardonnay - Private Reserve, Catherine Bonneau Vineyard
(Carneros ~ Los Carneros)
Catherine Bonneau's son, John Bambury and her other children produce this Los Carneros Chardonnay, a Napa Cabernet Sauvignon and a Zinfandel from Amador County, all in small case lots. Catherine and her husband August moved to Sonoma from Bordeaux in the 1920's, purchased 70 acres of farmland and a dairy, planted grapes, and eventually began providing fruit to some of the top names both locally and in Napa. Their children took the next logical step, releasing own-label wines beginning in 2001.

Brilliant yellow gold and fairly viscous in the glass, this elegant wine has notes of honey, butter, cream, toasted almond, cashews, crème brulee and caramel on the nose. On the palate it is medium in body with a fresh, fruity quality and notes of meyer lemon and pineapple. It is dry, pithy, and restrained in style, and has a long, clean finish. This is the kind of California Chardonnay I get excited about. It is refreshingly understated, but not bland or neutral. Easily a crowd pleaser as a cocktail, it also has the ability to dazzle at the table with dishes such as butternut squash and sage ravioli, a silky lobster bisque, or the Lean Cuisine chicken pasta selection.
Reviewed February 2, 2007 by Catherine Fallis.
Other Awards & Accolades
88 points -- Wine Spectator
89 points -- Wine Enthusiast
Other reviewed wines from Bonneau Wines

Bonneau Wines


2004 Zinfandel
(Shenandoah Valley (CA))
Catherine Fallis 1/18/2007

Bonneau Wines


2003 Cabernet Sauvignon
(Napa Valley)
Catherine Fallis 1/17/2007
---
Winery: Bonneau Wines
Vineyard: Catherine Bonneau Vineyard
Vintage: 2003
Wine: Chardonnay - Private Reserve
Appellation: Carneros ~ Los Carneros
Grape: Chardonnay
Price: 750ml $22.00



Catherine Fallis

Founder and President of Planet Grape LLC, a company committed to bringing the joy of wine, food, and good living into the lives of everyday people, Catherine is creator of the "grape goddess guides to good living," a series of books, television presentations, seminars, and e-learning programs. The fifth woman in the world to become a Master Sommelier, grape goddess Catherine Fallis is still very much down-to-earth.