---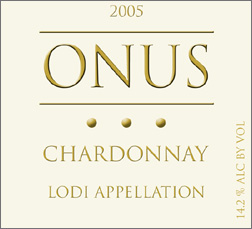 Onus Wines
2005 Chardonnay
(Mokelumne River ~ Lodi)

Onus Winery made its debut in 2006 with this '05 Chardonnay and a '03 Cabernet Sauvignon. If these maiden wonder-vintages are portentous of what is to come from future vinification at the hands of the brothers Peterson (Brad, Marty and Phillip) then we are all in for a veritable taste treat at prices well beneath what their quality commands.

The 2005 varietal Chardonnay exudes an elegance and sophistication which, with the exception of the work of his neighbor, Dave Lucas of The Lucas Winery, no other Lodi vintner has yet attained. The fruit was harvested by hand on the relatively early date of August 21st in order to retain the natural acidity which contributes to this wine's wonderful balance. At a pH of 3.4, TA of 6.1, and 23.2 brix at the time of harvest, I'd say his decision was prudent. It was fermented cold for an extended period of 21 days in stainless steel and is righteously devoid the diabolical machinations (as they apply to Chardonnay) of malolactic fermentation, oak barrels, chips, dust or inserts, and any additions whatsoever.

The result is a delightfully round and varietally correct Chardonnay with traditional fruit characteristics of lemon and green apple. I enjoyed this wine with scallops in a pomegranate and champagne sauce, though it would undoubtedly accentuate most seafood and light meats. I raise my glass to the outstanding initial efforts of the Peterson brothers and wish them great success for the future of Onus Wines!
Reviewed February 5, 2007 by Dave Chandler.
Other reviewed wines from Onus Wines
---
Winery: Onus Wines
Vintage: 2005
Wine: Chardonnay
Appellation: Mokelumne River ~ Lodi
Grape: Chardonnay
Price: 750ml $15.00



Dave Chandler

Raised in a family long committed to wine and viticulture, Dave Chandler was instilled with a classic Northern Californian enological education at an early age. True to his roots, Dave seeks varietal and appellation integrity when analyzing wines, firmly believing that all great wines start in the vineyard.