---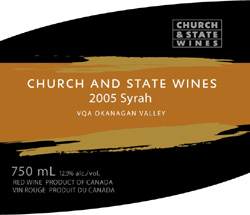 Church & State Wines
2005 Syrah Lot 285
(Okanagan Valley)
While the Church & State Winery's primary outlet is on Vancouver Island, the winery has made a big bet on the Okanagan since the 2005 vintage. Previously known as Victoria Estate Winery, it was taken over late in 2004 by a former tax lawyer and fish farming magnate named Kim Pullen. The winery was a turnaround and Pullen has achieved that brilliantly. First, he sourced good Okanagan grapes and then he hired California winemaker Bill Dyer, who previously had been making cult-status wines at Burrowing Owl Winery.

With the 2005 vintage, Church & State has begun to release bold wines that may only be the start of what the winery can do, for Pullen now has purchased vineyard land on the Black Sage Bench to secure the winery's future.

This wine is a powerhouse – black in colour, with a bold black pepper aroma. On the palate, it is massively concentrated, with flavours of black cherries and plums, generously turbocharged with the classic peppery notes of Okanagan Syrah. The finish just never quits. 90 points.
Reviewed February 6, 2007 by John Schreiner.
Other reviewed wines from Church & State Wines
---
Winery: Church & State Wines
Vintage: 2005
Wine: Syrah Lot 285
Appellation: Okanagan Valley
Grape: Syrah / Shiraz
Price: 750ml $35.00



John Schreiner

John Schreiner has been covering the wines of British Columbia for the past 30 years and has written 10 books on the wines of Canada and BC. He has judged at major competitions and is currently a panel member for the Lieutenant Governor's Awards of Excellence in Wine. Both as a judge and as a wine critic, he approaches each wine not to find fault, but to find excellence. That he now finds the latter more often than the former testifies to the dramatic improvement shown by BC winemaking in the past decade.