---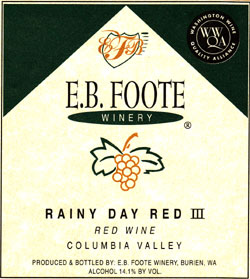 E.B. Foote Winery
Rainy Day Red III
(Columbia Valley)
The E.B. Foote Winery was founded by Eugene Foote in 1978, making it one of the oldest wineries in Washington State. All the grapes for this 2200 case operation are grown in the Columbia Valley and trucked into the winery in Burien, where they are processed. I found the name intriguing, not just because it may well be the third such concoction, but they must sell a lot of this, one would think, due to the propensity of the weather to provide precipitation pretty much year 'round in these parts of Washington State.

Deep and broodingly garnet in color, this wine certainly looks like it was meant for stormy weather. The wine has spicy red fruit aromas, with hints of peppery Cabernet. Not knowing what was in the blend, I guessed the Cab and thought maybe Cab Franc or Merlot might be the other ingredients, but it turned out to be predominantly Syrah. It's not a big wine in terms of structure, but it has some staying power with plenty of dark cherry and mulberry flavors, with lots of cedary and green peppery hints. There is a fair amount of acid and some pretty spunky tannins. This is a classic burger with all the trimmings wine: it can cut through the works and won't fail to clean the palate. I didn't see a Sunny Day Chardonnay on E.B. Foote's list, but maybe they should think about that as an antidote.

(Alc: 14.1%, Retail: $16)
Reviewed February 14, 2007 by Laura Ness.
Other reviewed wines from E.B. Foote Winery
---
Winery: E.B. Foote Winery
Vintage:
Wine: Rainy Day Red III
Appellation: Columbia Valley
Grapes: Syrah / Shiraz (87%), Cabernet Sauvignon (13%)
Price: 750ml $16.00



Laura Ness

A wine writer and wine judge for major publications and competitions around the country, Laura Ness likens wine to the experience of music. She is always looking for that ubiquitous marriage of rhythm, melody, and flawless execution. What is good music? You know it when you get lost in it. What is good wine? It is music in your mouth.