---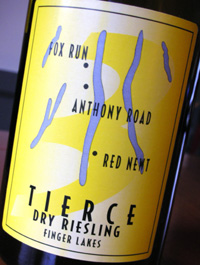 Tierce
2004 Riesling
(Finger Lakes)
There are some that will argue the point, but I'm a firm believer that Riesling rules the Finger Lakes region in central New York – a place where classic vinifera grapes shouldn't even be able to grow. Lucky for us – and those growing and making wine there – the extremely deep, narrow, Finger Lakes themselves make it all possible. They gather and hold enough heat in the summer to extend the growing season into the fall just enough to ripen grapes as well as protect vineyards against potentially catastrophic early frosts.

As with any region, quality varies from producer to producer. And, in a region like the Finger Lakes, which is populated with several 'festival' wineries that can seem more focused on events and selling t-shirts than making fine wine, you can taste a lot of one-dimensional, simple, unbalanced Rieslings before you get a world-class one. But, there are three producers that I've consistently enjoyed – Anthony Road Wine Company, Fox Run Vineyards and Red Newt Wine Cellars.

Starting with the 2004 vintage, these three leading wineries and their respective winemakers teamed up to produce a dry Riesling together – Tierce. The project grew out of the respect Johnannes Reinhardt (Anthony Road), David Whiting (Red Newt) and Peter Bell (Fox Run) have for one another. It was a smart move. Not only does it help promote the region's signature grape, but the result is a Riesling that goes well beyond the sum of the parts.

The wine is clean and focused from the moment you crack it open (it's closed with a screw cap). In the glass, it's an extremely pale greenish yellow and crystal clear. The aromatic nose starts with a burst of fresh-squeezed lime with hints of lemon zest and distinctive wet stone aromas. You'd never guess that there's .2% residual sugar because of fresh, lively acidity. Lime and mineral flavors burst in the mouth and remain on a long, citrusy, slightly snappy finish. Fewer than 100 cases were made.
Reviewed February 15, 2007 by Lenn Thompson.
---
Winery: Tierce
Vintage: 2004
Wine: Riesling
Appellation: Finger Lakes
Grape: Riesling
Price: 750ml $30.00



Lenn Thompson

Lenn Thompson writes about New York wines for Dan's Papers,
Long Island Press, Long Island Wine Gazette, Edible East End and Hamptons.com. Two words describe his taste in wine — balance and nuance. Lenn prefers food-friendly, elegant wines to jammy, over-extracted fruit bombs and heavy-handed oak. When reviewing, Lenn tastes each wine three times — alone right after opening, with food, and again the next day — believing that 90-second reviews are unrealistic and not how the average person enjoys wine.