---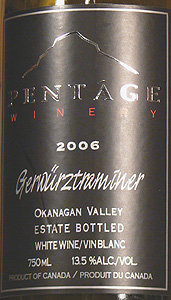 Pentage Wines
2006 Gewürztraminer
(Okanagan Valley)

More than any other important grape variety, Gewürztraminer is misspelled routinely on restaurant wine lists. This wine shows how easily that happens: the label reads "Gerwürztraminer" – one of the more common erroneous spellings. Paul Gardner and Julie Rennie, the owners of this winery, need to have a word with their printers.

But they don't need to apologize for the glorious wine inside the bottle. With 13.5% alcohol and a rich, almost oily texture, this is a fat Alsace-style Gewürztraminer. If it came from one of the big Alsace producers, it would easily fetch double the price.

It begins with a dramatic spicy aroma. On the palate, the fruit flavours are intense, showing grapefruit rind and more spice, with a lingering, dry finish. 89 points.
Reviewed May 29, 2007 by John Schreiner.
Other reviewed wines from Pentage Wines
---
Winery: Pentage Wines
Vintage: 2006
Wine: Gewürztraminer
Appellation: Okanagan Valley
Grape: Gewurztraminer
Price: 750ml $17.00



John Schreiner

John Schreiner has been covering the wines of British Columbia for the past 30 years and has written 10 books on the wines of Canada and BC. He has judged at major competitions and is currently a panel member for the Lieutenant Governor's Awards of Excellence in Wine. Both as a judge and as a wine critic, he approaches each wine not to find fault, but to find excellence. That he now finds the latter more often than the former testifies to the dramatic improvement shown by BC winemaking in the past decade.