---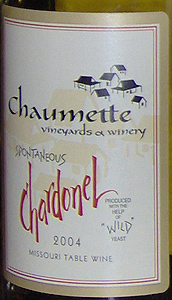 Chaumette Winery
2004 Spontaneous 'Wild Yeast' Chardonel
(Missouri)
Chaumette is becoming famous for their Chardonels. They currently sell seven wines of this hybrid grape, the daughter of Chardonnay and Seyval Blanc. The 2004 Spontaneous 'Wild Yeast" Chardonel is so named because, during a 72-hour fermentation frenzy at Chaumette, the winemaker had to rely on yeast cultured from estate Chardonel rather than engineered "store bought" yeast. This is a very tricky venture because wild yeasts are unpredictable—they might have a craving for a minor sugar that makes for a funky wine; they might ferment slowly and allow harmful bacteria to infect the wine; or they might stop the fermentation process before the target alcohol percentage is reached.

The 2004 Spontaneous Chardonel is not oak aged. Oak might overcome the fragile tones in this wine. It carries a refinement similar to a Bourgogne Chardonnay, however. A slow inhalation while holding a sip in the mouth exposes refreshing sensations of grapefruit and other citrus uncommon in Missouri wines. This is a dry Chardonel with medium body.
Reviewed July 12, 2007 by Tim Pingelton.
---
Winery: Chaumette Winery
Vintage: 2004
Wine: Spontaneous 'Wild Yeast' Chardonel
Appellation: Missouri
Grape: Chardonel
Price: 750ml $15.00



Tim Pingelton

As a professional winemaker and writer, Tim Pingelton understands how growing conditions and vinification techniques affect the grapes as they become wine. As an Appellation America correspondent, he realizes that a balance must be struck between standards in flux and standards fixed in time. Tim continually explores the areas about which he writes to personally relate how their wines do or do not embody appellation-specific characteristics.