---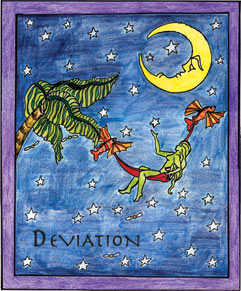 Quady Winery
NV Deviation
(California)


Andy Quady, blessed with a wicked sense of humor, founded his winery in Madera, in the central San Joaquin Valley, to make classic dessert wines. Included in his portfolio are splendid Muscat-based wines and port-style wines. But because it's not legal to call the latter by the name of the similar wine from Portugal [Port], Quady renamed his Starboard. His Muscat wines include a delightful Orange Muscat called Essensia, a black Muscat called Elysium, and a low-alcohol Orange Muscat, called Electra.

For this new wine, Quady said he thought it would be fun to make a "love potion" dessert wine, "so we infused Damiana and Scented Geranium into our Essensia Orange Muscat dessert wine."

He said damiana is a plant with a pleasant herbal character "reputed to have aphrodisiac properties," though the wine isn't advertised as an actual love potion. Quady added that scented geranium "is said to be used in witchcraft where practitioners supposedly employ its hauntingly seductive aroma in love potions."

It is impossible to describe this truly exotic dessert wine.
Reviewed July 24, 2007 by Dan Berger.
---
Winery: Quady Winery
Vintage: NV
Wine: Deviation
Appellation: California
Grape: Orange Muscat
Price: 375ml $25.00



Dan Berger

Dan Berger has been reviewing wine for 30 years, always seeking character related to varietal type and regional identity. He has never used numbers to rank wine and doesn't plan to start any time soon. He believes that weight and concentration aren't the only worthy aspects of wine and is especially smitten by cool-climate and food-friendly wines that offer distinctiveness.