---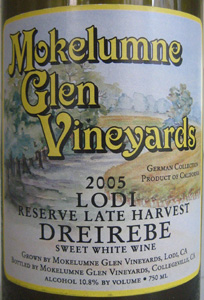 Mokelumne Glen Vineyards
2005 Dreirebe - Reserve Late Harvest
(Lodi)
The recently approved Mokelumne River AVA is located in central Lodi. Aside from being a mouthful to pronounce correctly, the new appellation has its work cut out for itself in finding a meaningful and recognizable identity in the marketplace. The taste profile of this dessert wine and the German varietal specialization of this winery wine may not be the exact signatures of the appellation, but they should draw attention to the potential for very high quality wine in this region perhaps better known for being home to Lodi's major wine producing facilities.

Mokelumne Glen Vineyards keeps the varietal components of this wine a proprietary secret, hiding their identity under a catchall "German Collection." The grapes were late harvested at 33.1° Brix and fermentation was arrested at 10.8% alcohol, leaving 13.2g/100ml of residual sugar.

The immensely appealing nose is full of rich aromas, notably clover honey and lavender. Apricot and cider with petrol and burlap round out the aromatic complexities. The wine has a powerful entry with an unctuous texture supporting apple butter and honey flavors that cling tenaciously to your palate on an almost endless finish. There is sufficient acidity here to keep the richness in check and, if you have the will power to wait, ensure up to a decade of further development in the cellar. If you're a fan of intensely aromatic, moderately sweet wines, this one will certainly serve as a benchmark for many years.

This is a dessert wine, and as such might be more appropriately packaged in a 375 mL bottle where its $20 price tag would still be a good value, so be glad you can get 750 mL of this delicious wine for this modest price; it's a sweet deal!
Reviewed August 31, 2007 by Adam Dial.
---
Winery: Mokelumne Glen Vineyards
Vintage: 2005
Wine: Dreirebe - Reserve Late Harvest
Appellation: Lodi
Grape: German Collection Varieties
Price: 750ml $20.00



Adam Dial

Brought up in a family with winery ventures in both California and Canada, Adam Dial seeks and appreciates diversity and individuality in wines. He is a Sommelier with more than two decades of experience in the hospitality and service industry, and is a respected wine educator, judge and industry advisor. In 2003 Adam Dial co-founded Appellation America.