---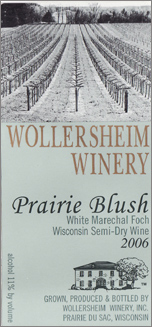 Wollersheim Winery
2006 Prairie Blush, Estate
(Wisconsin)


Hungarian Count Agoston Haraszthy first planted vineyards here on a hillside overlooking the Wisconsin River in the 1840's. After watching them wither, he fled to sun-drenched California. Later German immigrant Peter Kehl took over the property, planted native grapes, and put up structures which still stand. His son continued with the business until his death in 1899, at which time the family converted to other farm crops. In 1972, Robert and JoAnn Wollersheim purchased and restored the property, and hired French winemaker Philippe Coquard. Along with Prairie Blush, they produce Prairie Red, Ruby Nouveau, Domaine du Sac, and Domaine Reserve, all from the Lake Wisconsin Viticultural Area.

Starbright, vivid salmon pink and moderately viscous, this fresh, clean, brisk wine has aromas of strawberry, peach, lilac, white peppercorn, and nougat. On the palate, it is also clean and fresh, with rose petal, strawberry, and white peach notes. While medium-bodied with no oak influence and a very slight hint of residual sugar on the finish, the wine is overall very linear and structured, with a tart, almost bracing finish. Think of sailing on a hot day and feeling the splash of a wave breaking over the front of your craft.
Reviewed August 31, 2007 by Catherine Fallis.
Other Awards & Accolades
Best Blush/Rosé - Best of the East Wine Competition 2007, Watkins Glen, NY
Silver Medal - New World Wine International Wine Competition 2007, Ontario, CA
Silver Medal - Florida State Fair International Wine Competition 2007, Tampa, FL
Silver Medal - National Women's Wine Competition 2007, Santa Rosa, CA
Other reviewed wines from Wollersheim Winery

Wollersheim Winery


2005 Domaine du Sac
(Lake Wisconsin)
Adam Dial 3/27/2008

Wollersheim Winery


2005 Domaine Reserve
(Wisconsin)
Adam Dial 3/27/2008
---
Winery: Wollersheim Winery
Vineyard: Estate
Vintage: 2006
Wine: Prairie Blush
Appellation: Wisconsin
Grape: Marechal Foch
Price: 750ml $9.00



Catherine Fallis

Founder and President of Planet Grape LLC, a company committed to bringing the joy of wine, food, and good living into the lives of everyday people, Catherine is creator of the "grape goddess guides to good living," a series of books, television presentations, seminars, and e-learning programs. The fifth woman in the world to become a Master Sommelier, grape goddess Catherine Fallis is still very much down-to-earth.