---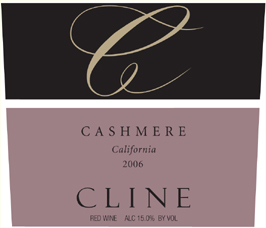 Cline Cellars
2006 Cashmere
(California)

To be sure, this is a very targeted, market-driven new production… and I think it does exactly what it sets out to do and deserves to be a tremendous success. For openers, the Cline marketers have got the name right. "Cashmere" evokes both the texture of the wine and the casual lifestyle of the target audience.

This is an utterly charming wine, without pretense, blended from Grenache, Syrah and Mourvedre. A California-livin' Rhone wine, as it were. The nose and flavor profile are forthrightly coffee, tobacco, mint, and other exotic nuances of the usual dark fruit descriptors. As it should be, the balance is slightly on the sweet and soft side for tannin and acidity (who wants thorns in their comfy sweater!), and the 15% alcohol is happily heat free. Unlike so many over-priced and over-the-top fruit bombs these days, this is definitely a wine that compels you to finish the bottle… and remember the name for the next California-livin' occasion. At the $21 price point, "Cashmere" could be a brand that catches on and enjoys a lasting niche in a wine marketplace without lots of brand loyalty.
Reviewed February 28, 2008 by Roger Dial.
Other reviewed wines from Cline Cellars
---
Winery: Cline Cellars
Vintage: 2006
Wine: Cashmere
Appellation: California
Grapes: Grenache (63%), Syrah / Shiraz (22%), Mourvedre / Mataro (15%)
Price: 750ml $21.00



Roger Dial

Under various hats (winegrower/maker/negotiant/writer) Roger Dial has been tasting wine professionally for 40 years. He regards varietal and regional diversity as the best virtues of wine, and is ever-suspicious of the quest (by producers and critics, alike) for "universal greatness". His tasting regime is simple: Is the wine technically sound? Is it interesting? Warning: he's a sucker for all aromatic varieties.