---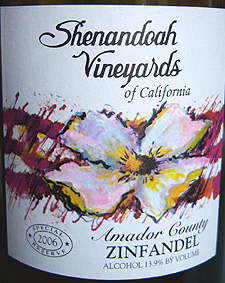 Shenandoah Vineyards (CA)
2006 Zinfandel Special Reserve
(Amador County)


"Awesome", not "elegant", is the more common exclamation heard for Zinfandel, but this wine richly deserves the latter accolade. On the nose it is strawberry-blackberry jam, dark cherries, rose potpourri, along with some of the other spicy aromas that come in granny's garden mix. All pleasant enough, but it is on the palate that the real elegance takes over…light bodied (colored, like a traditional Pinot to salivate for!), with the style and balance that also bears more of a resemblance to fine Pinot than muscle Zin.

Personally, I am not attracted to Pinot Noir that is "awesome-ized" to taste like Zinfandel; but the Zinfandel winemaker who has the good sense and skill to find the elegance of Pinot in a Zinfandel marriage such as this is a real master. All five of my in-elegant thumbs go up for Paul Sobon at Shenandoah Vineyards for this one. And, if the Zinfandel-Pinot irony isn't enough, let me add one more: What in the heck are they thinking of with this price!
Reviewed April 2, 2008 by Roger Dial.
---
Winery: Shenandoah Vineyards (CA)
Vintage: 2006
Wine: Zinfandel Special Reserve
Appellation: Amador County
Grapes: Zinfandel (87%), Syrah / Shiraz (6%), Sangiovese (3%), Cabernet Sauvignon (2%)
Price: 750ml $9.95



Roger Dial

Under various hats (winegrower/maker/negotiant/writer) Roger Dial has been tasting wine professionally for 40 years. He regards varietal and regional diversity as the best virtues of wine, and is ever-suspicious of the quest (by producers and critics, alike) for "universal greatness". His tasting regime is simple: Is the wine technically sound? Is it interesting? Warning: he's a sucker for all aromatic varieties.