---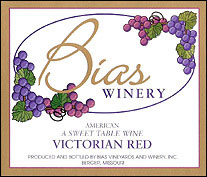 Bias Vineyards & Winery
NV Victorian Red
(Ozark Mountain)
The humble Concord — is it so often maligned by wine connoisseurs because of its sweetness, its hyper-fruitiness, or its resemblance to the jelly in a white-bread PB&J? It might not be the wine to sip while contemplating the profundities of the void, but who wants to do that anyway? From its early days in Concord, Massachusetts, this blue-black slipskin grape has pleased school kids and frustrated winemakers.
Kirk Grass and his wife Carol own Bias Winery in Berger (rhymes with merger), Missouri, and Kirk is the winemaker. In describing how he makes his Concord wine, which he calls Victorian Red, not too sweet and not too bitter, he drew a line graph in the air with his two thick index fingers. Side-by-side, taste increases as sugar (occurring naturally, but usually augmented by the winemaker) increases. There is a point, the "sweet spot," where sugar keeps on increasing but taste falls. Kirk finds this sweet spot by bench tasting a wide range of sugar levels in his Condord. The reason dry Condord wine is almost unheard of is because Concord needs some sweetness to avoid bitter, stalky tastes. Kirk's is similar to the Manischewitz medium dry Concord, but his is local and fresh.
The Bias Victorian Red has the perfect sweet spot. It is very fruity but not overly sweet. This is a good wine to cool in a creek on a late-spring afternoon while a good friend unpacks the picnic basket.
The Bias Winery (originally owned and operated by Jim and Norma Bias) is local-oriented, and all winery operations detract as little from the natural progression from grape to wine. While the Missouri wine industry is making great changes in product style and manufacture, the Bias Victorian Red is a nice reminder that the humble Concord will always have a place in the Missouri wine rack.
$9.99/750mL
Reviewed January 18, 2006 by Tim Pingelton.
---
Winery: Bias Vineyards & Winery
Vintage: NV
Wine: Victorian Red
Appellation: Ozark Mountain
Grape: Concord



Tim Pingelton

As a professional winemaker and writer, Tim Pingelton understands how growing conditions and vinification techniques affect the grapes as they become wine. As an Appellation America correspondent, he realizes that a balance must be struck between standards in flux and standards fixed in time. Tim continually explores the areas about which he writes to personally relate how their wines do or do not embody appellation-specific characteristics.