---
Forlorn Hope
2012 Trou Grit
(Suisun Valley)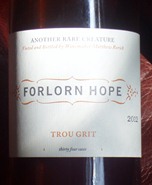 Trousseau Gris has become rare in California, but in the 1960's it was grown widely as Gray Riesling. Then this French grape of the Jura disappeared for all purposes, lost to Chardonnay and Sauvignon Blanc. But a resurrection among more daring winemakers is surfacing. Often employing very different vinification practices than in past year, these wines are a fresh statement.
Matthew Rorick has fashioned such a Trousseau Gris under his Forlorn Hope and labeled it
Trou Grit.
An on-the-skin fermenation and barrel aging has resulted in an orange hued wine that is bottled unfiltered and unfined. The depth of the color is intriquing while in glass.
Pleasing acidity matches the surprising tannins that exist in this 'Gris' white. Juicy with expression of watermelon rhine and melon, those tannins linger long into finish presenting a peppermint background.
It is a wine that wants to find food, the exploration of what works is the adventure. At 10.5 Alc it can certainly be enjoyed fully.
Reviewed May 29, 2013 by Roger King.
Other reviewed wines from Forlorn Hope
---
Winery: Forlorn Hope
Vintage: 2012
Wine: Trou Grit
Appellation: Suisun Valley
Grape: Trousseau Gris
Price: 750ml $25.00



Roger King