---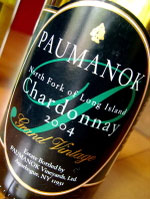 Paumanok Vineyards
2004 Chardonnay Grand Vintage
(North Fork of Long Island)
Fermented in new French oak barrels, Paumanok 2004 Grand Vintage Chardonnay ($30) actually has me questioning my own chardonnay preferences. In fact, it may be the best chardonnay I've tasted from the North Fork in years. There are winemakers in Burgundy who wish they could make a wine like this.
Winemaker Charles Massoud only makes Grand Vintage bottlings in the best years from the best fruit, and this is only the third GV chardonnay in Paumanok's history (1995 and 2000 were the others). The nose is rich and ripe with pineapple and mandarin orange aromas accented by toasted coconut. Expertly balanced with medium body and a creamy-yet-fresh mouthfeel, the intense flavors closely match the nose with an elongated, elegant finish. Outstanding, and as a 2004 still pretty young. I expect this one to develop and improve over the next few years.
It's important to remember...we shouldn't blame the tools (oak barrels), but the artisans (winemakers). When used judiciously, oak influence leads to wines like this one.
Reviewed May 15, 2006 by Lenn Thompson.
---
Winery: Paumanok Vineyards
Vintage: 2004
Wine: Chardonnay Grand Vintage
Appellation: North Fork of Long Island
Grape: Chardonnay



Lenn Thompson

Lenn Thompson writes about New York wines for Dan's Papers,
Long Island Press, Long Island Wine Gazette, Edible East End and Hamptons.com. Two words describe his taste in wine — balance and nuance. Lenn prefers food-friendly, elegant wines to jammy, over-extracted fruit bombs and heavy-handed oak. When reviewing, Lenn tastes each wine three times — alone right after opening, with food, and again the next day — believing that 90-second reviews are unrealistic and not how the average person enjoys wine.