---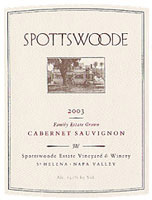 Spottswoode Estate Vineyard & Winery
2003 Cabernet Sauvignon, Estate
(St. Helena ~ Napa Valley)

When folks ask what is my favorite wine, I dodge the query because I don't want to appear biased. The truth is I really don't have any favorites. It usually depends upon the time of day. If you've gotten this far, you're probably thinking I'm going to admit that Spottswoode is my favorite. But I'll continue with the ruse -- it is…and it isn't.

What I mean is, I so admire and respect the women who produce one of the foremost Napa Valley Cabernets. Not only have they been farming organically for more than 20 years (before it became di rigueur), but year-in-year-out you can count on Spottswoode's wines being so consistent but so subtly nuanced, that you can plan to celebrate your wedding anniversary with it, thereby enhancing your marriage.

With this edition – from a spotty 2003 vintage that will prove to have produced some inconsistent wines – you can still hold it up as a kind of GMT by which to set your watch.

The wine – 96 percent Cabernet, the rest Cab Franc from the winery's St. Helena estate and made in 70 percent new French oak – is so gorgeous, so soft and elegant, supple and smooth, that André Tchelistcheff's signature descriptor of a "velvet glove" doesn't need to be covered with his proverbial "powerful fist." That's not to say there's no backbone here. It's just that with Spottswoode's wines what you get is pure and delicious intellectual discourse, without the need for Alpha male intrusiveness.

But with these Cabs, a price must be exacted – and that alas, is the price. Yes, it's costly beyond many of our means, but what the hey, because in the end, unlike with most expensive wines, this one's worth it. What's good too, is that there were 3,700 cases made.
Reviewed June 8, 2006 by Alan Goldfarb.
---
Winery: Spottswoode Estate Vineyard & Winery
Vineyard: Estate
Vintage: 2003
Wine: Cabernet Sauvignon
Appellation: St. Helena ~ Napa Valley
Grapes: Cabernet Sauvignon (96%), Cabernet Franc (4%)
Price: 750ml $110.00, 1.5L $240.00



Alan Goldfarb

Alan Goldfarb has been writing about and reviewing wine for 17 years. His reviews have been published in the St. Helena Star, San Jose Mercury, San Francisco Examiner, Decanter, and Wine Enthusiast, among others. Not once has he used a point system, star system, or an iconic symbol to quantify a wine. What counts in Mr. Goldfarb's criteria when judging a wine is: how it tastes in the glass; is it well-constructed; its food compatibility; and presence of redeeming regional attributes.