---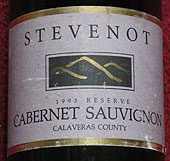 Stevenot Winery
1993 Reserve Cabernet Sauvignon
(Calaveras County)
The color is a deep ruby with light brick red hues at the margin, giving an initial hint at the wine's age. A warm and seductive nose draws you in, offering up an intriguing bouquet of gamey meat with herbal notes and stewed fruit aromas. Peeling back the initial aromatic impressions we found additional layers of tobacco, and mocha coffee notes, as expected in a wine allowed an additional decade in the bottle as this one has been permitted.

The wine covers the full palate, making a big impression, albeit never approaching the obtuse – this is an elegant middle-aged beauty. The acids are still present and melded in a fine tannic structure making a mouth-feel impression that perhaps suggests a younger wine, though I suspect not too many of the more recent California cabernet sauvignons will have the grace of age found here. Indeed, this wine, at 13.9 percent alcohol, represents a transition in California winemaking, "punchier" than its predecessor vintages, but well short of the hang-time alcohol-sweet bombs of today. In fact, this wine could well continue for another 5 years in bottle to reveal new and appealing attributes.

Time has allowed the transformation of this "old style" California Cabernet from just primary characteristics and fruit driven qualities into a full package of interesting mature complexity – a most tasty argument for a return to this style of winemaking. And heck, waiting a decade is definitely worth the experience!
Reviewed June 9, 2006 by Adam Dial.
---
Winery: Stevenot Winery
Vintage: 1993
Wine: Reserve Cabernet Sauvignon
Appellation: Calaveras County
Grape: Cabernet Sauvignon



Adam Dial

Brought up in a family with winery ventures in both California and Canada, Adam Dial seeks and appreciates diversity and individuality in wines. He is a Sommelier with more than two decades of experience in the hospitality and service industry, and is a respected wine educator, judge and industry advisor. In 2003 Adam Dial co-founded Appellation America.