---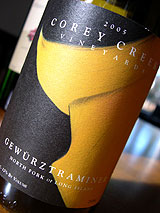 Corey Creek Vineyards
2005 Gewurztraminer
(North Fork of Long Island)
Much like food and wine, wine and art are forever beautifully entangled. The splendor of a vineyard as it dances through the growing season begs to be memorialized with a camera or on canvas. And, similarly winemaking, while at its core a scientific undertaking, is a craft done best in the hands of true artisans.
Art is necessary to sell wine as well. Wine shops can be overwhelming — shelf after shelf of many different wines from many different locals and many foreign to the consumer. We've all picked up a bottle based on the label, and Australian wineries, perhaps more than anyone else, attempt to capture our attention with brightly colored labels featuring cartoon animals. Wines like Yellowtail, Little Penguin and Blue Marlin are well-known examples.
Last year, Bedell Cellars released the first wines in its Artist Series -- a 2001 Reserve Merlot and two blends (one red, one white).
The newest member of the Artist Series comes from Bedell's sister (white wine) label — Corey Creek. The Corey Creek 2005 Gewurztraminer ($25) label was designed by award-winning photographer Howard Schatz. It features a striking image of a Calla Lily from his most recent book Botanica.
The wine inside is a reminder that Long Island is about more than just merlot. Exotically perfumed, the nose offers exotic aromas of sweet rose water, lychee, tropical fruit and spearmint. Bad gewürztraminer tends to be flat, lacking fresh acidity, but this wine is nicely balanced with just the right acidity to go with the wine's medium-full body and citrus and tropical fruit flavors (everything from lemons and orange zest to pineapple).
The ripeness of the 2005 vintage really shines in this wine. It's one of the best local gewürztraminers I've tasted.
Reviewed June 14, 2006 by Lenn Thompson.
Other reviewed wines from Corey Creek Vineyards
---
Winery: Corey Creek Vineyards
Vintage: 2005
Wine: Gewurztraminer
Appellation: North Fork of Long Island
Grape: Gewurztraminer
Price: 750ml $25.00



Lenn Thompson

Lenn Thompson writes about New York wines for Dan's Papers,
Long Island Press, Long Island Wine Gazette, Edible East End and Hamptons.com. Two words describe his taste in wine — balance and nuance. Lenn prefers food-friendly, elegant wines to jammy, over-extracted fruit bombs and heavy-handed oak. When reviewing, Lenn tastes each wine three times — alone right after opening, with food, and again the next day — believing that 90-second reviews are unrealistic and not how the average person enjoys wine.