---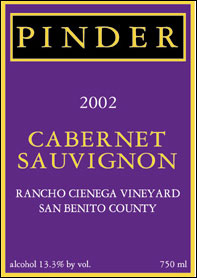 Pinder Winery
2002 Cabernet Sauvignon, Rancho Cienega Vineyard
(San Benito County)
Imagine a vegetable Napolean with grilled green bell peppers, eggplant, tomatoes, onions and asparagus, and you have the perfect pair for this wine. (By the way, have you ever found a really great wine pair with asparagus?)
This wine has pungent aromas of root crops, dusty blackberries and bell peppers. It is a rustic-style wine with just enough cocoa and dried cherry to keep the vegetables at bay. I can see them looming large on the billboards of the Central Coast: huge artichokes and broccoli bearing machetes. Seriously, if you drive the Salinas corridor of 101, you will see gargantuan cutouts of men displaying broccoli and cabbage, proudly leaning on their pitchforks. In San Benito County, vegetables rule. Every town is the crucifer capitol (yes, and capital, too) of something, from Watsonville as the Artichoke Capitol to Salinas as the Broccoli Capital. Everyone knows Gilroy is the Garlic capital, except, alas, it is slowly losing its crown(s) to China. Lest you think I ruminate too much on the vegetables, here is the description of this Cab from the winery's website:
"This wine is nicknamed "Hillbrook" after the school located in Los Gatos. Several students and their families helped to pick and ferment this wine as part of a school project. These hot weather grapes produce a cab with distinct vegetal characteristics. This wine would be great paired with hearty dishes, meat sauces, and barbecue." – I'd also add, asparagus.
(13.9% alc; 75 cases produced)
Reviewed June 21, 2006 by Laura Ness.
Other reviewed wines from Pinder Winery
---
Winery: Pinder Winery
Vineyard: Rancho Cienega Vineyard
Vintage: 2002
Wine: Cabernet Sauvignon
Appellation: San Benito County
Grape: Cabernet Sauvignon
Price: 750ml $18.00



Laura Ness

A wine writer and wine judge for major publications and competitions around the country, Laura Ness likens wine to the experience of music. She is always looking for that ubiquitous marriage of rhythm, melody, and flawless execution. What is good music? You know it when you get lost in it. What is good wine? It is music in your mouth.