---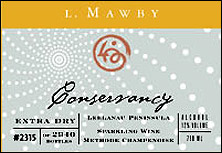 L. Mawby Vineyard
NV L. Mawby Conservancy 'Extra Dry'
(Leelanau Peninsula)
Although we prefer Brut-style sparklers, this wine is a winner and a favorite of ours with spicy foods -- Andouille sausage, Thai curries, Indian curried rabbit, Jamaican jerk chicken, any Szechwan dish with strong flavors, hot chili spices, peppercorns and fresh ginger. That's the "slightly sweet beats heat" wine theory in action.

On its own without food, the moderately full-bodied Conservancy sports a mélange of candied fruit aromas that also play to the palate. Its lingering, lightly fruited finish makes it a most pleasant pour for those who find a Brut-style bubbly too dry.

It's with spicy food that Conservancy comes alive, taming even the most fiery of spicy dishes.

This cuvée benefits the Leelanau Conservancy, thus the name. For each bottle sold, L. Mawby contributes $2.00 to the Farmland Preservation Fund of the Leelanau Conservancy, dedicated to the preservation of farmland in perpetuity. The fund allows landowners to realize some of the value of their property, while preserving the land for agricultural use.
Reviewed July 20, 2006 by Eleanor & Ray Heald.
Other reviewed wines from L. Mawby Vineyard
---
Winery: L. Mawby Vineyard
Vintage: NV
Wine: L. Mawby Conservancy 'Extra Dry'
Appellation: Leelanau Peninsula
Grapes: Pinot Noir, Chardonnay, Vignoles / Ravat, Pinot Gris / Grigio
Price: 750ml $24.00



Eleanor & Ray Heald

The Healds have been writing about wine since 1978 and have focused on appellation significance in many of their world beat writings. They value recognizing site personality (terroir) within an appellation's wines. They praise balance and elegance in wines styled to pair well with food and eschew over-extraction, high alcohol and heavy-handed oak. "Delicious" is their favorite descriptor for a great, well-made wine.