---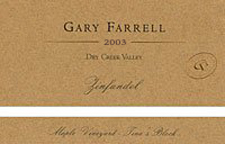 Gary Farrell Wines
2003 Zinfandel, Maple Vineyard - Tina's Block
(Dry Creek Valley)
There is little like a Gary Farrell Zinfandel, and that is so vital for anyone with a long history of loving northern Sonoma County Zins. That's because California has moved apace in the last few years in crafting Zinfandels that are far too big, muscular, and brawny – wines that do not display the spice and fruit so evident in the wines of the past. Bigness is in, and only a small number of Zin producers have the courage to make a wine such as this.

Blessed with a classic Dry Creek raspberry aroma with spice notes, hints of strawberry and clove and a bit of black pepper, this red wine is deeply flavored and almost sweet on the tongue. French oak here is but a nuance. And despite 14.2% alcohol, its structure based on lower pH is impressive.

Part of the reason this wine exists in its present balanced form is Farrell's persistent demand of growers that they harvest earlier than they do for almost all other winemakers. The reason: he demands higher natural acidity levels, which will offset the alcoholic "burn" of wines in the 14+% range. And the Maple Vineyard is simply one of California's finest for Zin grapes.

Pure and simple: this is not only a classic example of what great Zinfandel once used to smell and taste like, but it is a superb example of one of California's finest Zinfandels, a must-try experience.
Reviewed July 24, 2006 by Dan Berger.
Other reviewed wines from Gary Farrell Wines
---
Winery: Gary Farrell Wines
Vineyard: Maple Vineyard - Tina's Block
Vintage: 2003
Wine: Zinfandel
Appellation: Dry Creek Valley
Grape: Zinfandel
Price: 750ml $36.00



Dan Berger

Dan Berger has been reviewing wine for 30 years, always seeking character related to varietal type and regional identity. He has never used numbers to rank wine and doesn't plan to start any time soon. He believes that weight and concentration aren't the only worthy aspects of wine and is especially smitten by cool-climate and food-friendly wines that offer distinctiveness.