---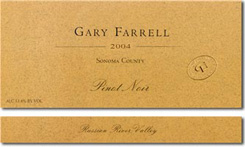 Gary Farrell Wines
2004 Pinot Noir
(Russian River Valley)
Gary Farrell, one of California's greatest winemakers, told me something the other day that was eye opening. Farrell arguably makes Sonoma County's best, most consistent Pinot Noirs. Some of his Pinots are vineyard-designates, however, there is also a reliable Sonoma County blend that contains portions of the vineyard designates.

He said that occasionally he prefers his Sonoma County blend to the vineyard designates.

This stands to reason. In certain years, a vineyard-designated wine may lack something that blending can cure, where different elements in one wine can add something to a blend that a single vineyard doesn't offer, thus making for a more complex wine.

After tasting Farrell's Sonoma County 2004 Pinot Noir, I can say that it is one of those blends that can easily hold its own with most vineyard-designates. This wine is a perfect example of Farrell's "blend is better" wine, and it's cheaper than his more pricey vineyard designates.

The aroma is marked by black raspberry and spice notes like clove and blackberry. The flavors are rich and lush, but there is a perfect balance that works now with fresh, wild salmon, or you should wait for a few years for the wine to develop its inevitable secondary flavors.
Reviewed September 12, 2006 by Dan Berger.
Other reviewed wines from Gary Farrell Wines
---
Winery: Gary Farrell Wines
Vintage: 2004
Wine: Pinot Noir
Appellation: Russian River Valley
Grape: Pinot Noir
Price: 750ml $42.00



Dan Berger

Dan Berger has been reviewing wine for 30 years, always seeking character related to varietal type and regional identity. He has never used numbers to rank wine and doesn't plan to start any time soon. He believes that weight and concentration aren't the only worthy aspects of wine and is especially smitten by cool-climate and food-friendly wines that offer distinctiveness.