---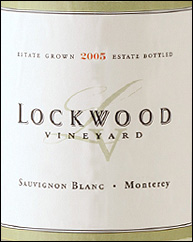 Lockwood Vineyard
2005 Sauvignon Blanc
(San Lucas)
There was a time when Lockwood's Sauvignon Blanc was barrel fermented (although it wasn't overtly oaky), and a little Chardonnay was even added. But when winemaker Larry Gomez, who had been Lockwood's assistant winemaker in the mid-1990s, returned as winemaker in 2004, he decided to de-emphasize oak in all the wines to show off the vineyard character.

The grapes for all of Lockwood's wines come from the winery's 1,850-acre estate vineyard in the San Lucas AVA, despite the Monterey AVA on the label. The vineyard has a soil type called "Lockwood shaly loam," a chalky, calcareous, low-vigor soil that is rare elsewhere in California; perhaps that's what gives this Sauvignon Blanc its hint of minerality. Although the vineyard's location in southern Monterey County makes for many hot days, with temperatures over 100 degrees, nighttime temperatures can drop by as much as 60 degrees. That temperature swing helps to preserve acidity and freshness, which are also evident in this budget-priced ($10-$12) Sauvignon Blanc. In addition to its freshness and minerality, the wine is quite fragrant, with aromas and flavors of passion fruit, melon and grapefruit, along with just a bare hint of new-mown hay. It's a lovely and refreshing wine that sees no oak, and it's a promising indication of the new Lockwood style.
Reviewed August 16, 2006 by Laurie Daniel.
Other reviewed wines from Lockwood Vineyard
---
Winery: Lockwood Vineyard
Vintage: 2005
Wine: Sauvignon Blanc
Appellation: San Lucas
Grape: Sauvignon Blanc
Price: 750ml $12.00



Laurie Daniel

Laurie Daniel, wine columnist for the San Jose Mercury News, has been reviewing wine for more than 10 years. She doesn't use numbers, preferring to describe her recommended wines and let consumers decide for themselves. Laurie believes that bigger isn't necessarily better; she's partial to wines of balance, finesse and character. Her particular interests are Pinot Noir (versions that really taste like Pinot, that is) and aromatic whites like Sauvignon Blanc, Riesling and Gewürztraminer.