---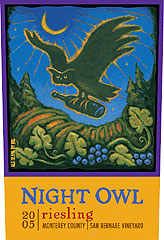 Delicato Family Vineyards
2005 Night Owl Riesling, San Bernabe Vineyard
(San Bernabe)
San Bernabe Vineyard is huge: It encompasses almost 20 square miles and more than 20 microclimates. Temperatures can vary by as much as five degrees from the northern to the southern extremes of the vineyard. Because of its diversity, 21 grape varieties are able to co-exist there, everything from cool-climate Riesling, Chardonnay and Pinot Noir to heat-loving Cabernet Sauvignon. The vineyard, owned by the Indelicato family, accounts for the vast majority of the planted acreage in the San Bernabe AVA in central Monterey County. Grapes go into the family's brands (the best known is Delicato) and are sold to about two dozen other wineries.

The family's Night Owl brand pays tribute to the vineyard's growing owl population, which is being encouraged through the erection of more than 200 nesting boxes by January 2007. The 2005 Riesling is fragrant and off-dry, with flavors of white peach, lime and just a hint of diesel. The slight sweetness is balanced by persistent acidity. While the Night Owl Riesling is on the light side, it's certainly not insipid, bland or cloying, as so many California Rieslings can be. It's very refreshing on a hot day and, at $12, it won't tax your budget.
Reviewed August 18, 2006 by Laurie Daniel.
Other reviewed wines from Delicato Family Vineyards
---
Winery: Delicato Family Vineyards
Vineyard: San Bernabe Vineyard
Vintage: 2005
Wine: Night Owl Riesling
Appellation: San Bernabe
Grape: Riesling
Price: 750ml $12.00



Laurie Daniel

Laurie Daniel, wine columnist for the San Jose Mercury News, has been reviewing wine for more than 10 years. She doesn't use numbers, preferring to describe her recommended wines and let consumers decide for themselves. Laurie believes that bigger isn't necessarily better; she's partial to wines of balance, finesse and character. Her particular interests are Pinot Noir (versions that really taste like Pinot, that is) and aromatic whites like Sauvignon Blanc, Riesling and Gewürztraminer.