---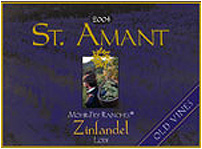 St. Amant Winery
2004 Old Vine Zinfandel, Mohr-Fry Ranch
(Lodi)
Tim Spencer, owner and winemaker of St. Amant Winery, is well known both in Lodi Wine Country and abroad for his skill in producing truly handcrafted wines of a superior quality. His minimalistic approach to vinification and traditional winemaking techniques are designed to achieve maximum expression of the terroir of each unique vineyard. Specializing in Spanish, Portuguese and Italian varieties, Spencer has also received great acclaim for his work with Zinfandel; crafting structured, yet soft wines which manifest an abundance of fruit in their youth.

Tim and his wife, Barbara St. Amant Spencer, founded St. Amant Winery in 1981. Grafting over two acres of Zinfandel vines to five traditional Douro Valley Portuguese varieties, Alvarelhao, Bastardo, Souzao, Tinta Cao and Touriga in 1979, their legendary '81 Vintage Port proved the potential of Portuguese varietals in Northern California and is a legacy that St. Amant continues to this day, having recently won a double-gold and 'best desert wine' at the California State Fair with their 2003 Vintage Port. Spencer began experimenting with other Mediterranean varieties in the 1990's such as Barbera and Tempranillo, and St. Amant's first Zinfandel was released in 1997, all of which have been distinguished with numerous awards and accolades.

The 2004 Mohr-Fry Old Vine Zinfandel is another testament to Tim Spencer's talent for trapping magic in a Bordeaux bottle. The St. Amant formula of "harvesting fully mature and ripe fruit of top quality from a single lot, sorting the grapes at the crusher by hand to remove leaves and imperfect clusters, fermenting in open-top containers with a high juice to skin ratio and bottling with minimal racking into high-quality coopers of French and American oaks for added complexity," has again delivered a soft, complex and fruit-forward wine characteristic of well made Lodi Zinfandel. Harvested from a 7.5 acre vineyard planted in the Mokelumne River Appellation in 1944, this wine is teeming with ripe raspberry and rich blackberry flavors. Soft, yet supple tannins compliment the finish of this delicious and affordable Old Vine Zinfandel, with a bottle price of just fifteen dollars.
Reviewed August 29, 2006 by Dave Chandler.
---
Winery: St. Amant Winery
Vineyard: Mohr-Fry Ranch
Vintage: 2004
Wine: Old Vine Zinfandel
Appellation: Lodi
Grape: Zinfandel
Price: 750ml $15.00



Dave Chandler

Raised in a family long committed to wine and viticulture, Dave Chandler was instilled with a classic Northern Californian enological education at an early age. True to his roots, Dave seeks varietal and appellation integrity when analyzing wines, firmly believing that all great wines start in the vineyard.