---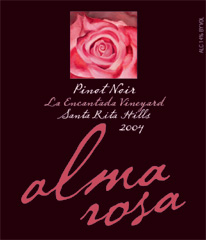 Alma Rosa Winery and Vineyards
2004 Pinot Noir, La Encantada Vineyard
(Sta. Rita Hills)
When Richard and Thekla Sanford relinquished control of their eponymous winery last year, they weren't exactly left high and dry for wine. Their new project, Alma Rosa, got them back to basics: their one hundred acre La Encantada Vineyard is organically farmed and home to six different Pinot clones. The vineyard lies just west of La Riconada Vineyard on the very western edge of Santa Rita Hills, making it one of the coolest sites in the region.

This Pinot has a very pretty nose, with the sweet strawberry and cherry aromatics lifting out of the glass. The fruit is pristine but you'll also smell some telltale beet root, spice and earthiness in the mix. The ripe strawberry/cherry fruit opens up well on entry and expands, hitting the delicious sweet spot on mid palate and then does the slow fade to black. Already showing itself as a lovely wine, it possesses good fruit flavors, mid palate texture and resoundingly fine acidity on the finish. A complete work; this wine hangs all together on the palate from beginning to end. Plus you'll never find a corked Alma Rosa wine: the Sanfords have gone to screw caps for their entire line, which also includes Vin Gris, Pinot Gris, Pinot Blanc and Chardonnay.
Reviewed August 31, 2006 by Dennis Schaefer.
Other reviewed wines from Alma Rosa Winery and Vineyards

Alma Rosa Winery and Vineyards


2005 Pinot Gris
(Santa Barbara County)
Catherine Fallis 3/23/2007

Alma Rosa Winery and Vineyards


2005 Chardonnay
(Santa Barbara County)
Dennis Schaefer 11/30/2006
Alma Rosa Winery and Vineyards


2005 Pinot Blanc
(Sta. Rita Hills)
Dennis Schaefer 11/30/2006
---
Winery: Alma Rosa Winery and Vineyards
Vineyard: La Encantada Vineyard
Vintage: 2004
Wine: Pinot Noir
Appellation: Sta. Rita Hills
Grape: Pinot Noir
Price: 750ml $45.00



Dennis Schaefer

Dennis Schaefer has been tasting and writing about wine for over 30 years, propelled by a continuing curiosity and burgeoning enthusiasm for discovering what's in the bottle. Blessed with catholic tastes, he enjoys everything from the obvious to the sublime. A major requirement is that the vineyard, winery and winemaker consistently perform well and fulfill their potential. Balance, concentration and complexity are key to the tasting experience but, in the end, the purpose of wine is simply to give pleasure.