---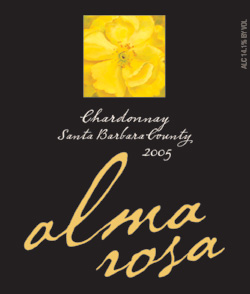 Alma Rosa Winery and Vineyards
2005 Chardonnay
(Santa Barbara County)

Alma Rosa, Richard and Thekla Sanford's new wine venture, is starting to release new wines, after their initial vintage in 2004. Many of their followers may remember their full blown, fruit and oak driven Chardonnays under their old Sanford label. They were exotically stuffed with tropical fruit and a good slashing of new French oak, as if to throw down the gauntlet and say "this is the ripest, biggest, baddest Chardonnay in Santa Barbara County."

And while that certainly is a legitimate style, the new Alma Rosa Chard bottling takes a little different tack. I would be remiss in my reporting, if I did not point that out from the git-go. There is, however, the same purity of fruit, the same type of fruit concentration on the palate, it's just more modulated and refined, which I believe makes it a better companion with food at the daily dining table.

Lemon drop aromatics are the main event on the nose, along with some pineapple and a hint of butter cream. The flavors are fresh and lively, while at the same time deep and delineated. The lemony/citrus are the most forward, followed by apple, pear and pineapple, though nothing is over the top. It's all maintained in a tasty and compelling framework with a bright, mouth watering acidity on the finish that invites you to take another bite of food and another sip of wine. Balance is the key and it works very well here.
Reviewed November 30, 2006 by Dennis Schaefer.
Other reviewed wines from Alma Rosa Winery and Vineyards

Alma Rosa Winery and Vineyards


2005 Pinot Gris
(Santa Barbara County)
Catherine Fallis 3/23/2007
Alma Rosa Winery and Vineyards


2005 Pinot Blanc
(Sta. Rita Hills)
Dennis Schaefer 11/30/2006
---
Winery: Alma Rosa Winery and Vineyards
Vintage: 2005
Wine: Chardonnay
Appellation: Santa Barbara County
Grape: Chardonnay
Price: 750ml $16.00



Dennis Schaefer

Dennis Schaefer has been tasting and writing about wine for over 30 years, propelled by a continuing curiosity and burgeoning enthusiasm for discovering what's in the bottle. Blessed with catholic tastes, he enjoys everything from the obvious to the sublime. A major requirement is that the vineyard, winery and winemaker consistently perform well and fulfill their potential. Balance, concentration and complexity are key to the tasting experience but, in the end, the purpose of wine is simply to give pleasure.