---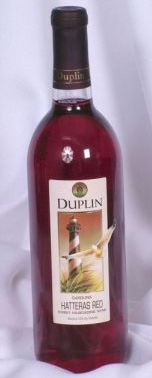 Duplin Wine Cellars
Hatteras Red
(North Carolina)
Duplin Vineyards claims to be the largest producer of Muscadine and Scuppernong wines in the world, with an annual production of close to 175,000 cases. Founded in 1976 by the Fussell family, the winery is located in eastern North Carolina in the town of Rose Hill. Duplin (pronounced doop-lynn) draws muscadine grapes from 940 acres of vineyard in NC, South Carolina and Georgia to produce a range of styles from off-dry to sweet. The 50,000 square foot facility boasts a 40 foot tasting bar and is home to the Bistro Restaurant and dinner theatre.

Duplin's Hatteras Red, winner of the 2005 Muscadine Trophy at the NC State Fair, is a dessert wine made from red Scuppernong, and one of the best sweet Muscadines I've ever tasted. With its exotic Scuppernong aroma – reminiscent of tropical fruit and Muscat – it has a bright acidity that perfectly balances the sweet spicy flavors. Very appealing on its own, the wine is an excellent pairing for chocolate desserts, especially dark chocolate.
Reviewed September 11, 2006 by Barbara Ensrud.
---
Winery: Duplin Wine Cellars
Vintage:
Wine: Hatteras Red
Appellation: North Carolina
Grape: Muscadine
Price: 750ml $7.49



Barbara Ensrud

Barbara Ensrud has been writing about and reviewing wines since 1979, with a nationally syndicated column for the New York Daily News and numerous other publications. Her "no numbers" approach to evaluating wine is simple: how does it taste – on its own, as well as with particular foods? Is it good value, whether $10 or $210? Does it measure up in terms of varietal character and regional identity? …"When I taste a good wine, I can't wait to share it with fellow wine lovers."