---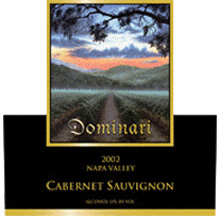 Dominari
2002 Cabernet Sauvignon
(Atlas Peak ~ Napa Valley)

This wine from the little known property of Jurgen and Marie Schutz is going to go a long way to prove that Atlas Peak is best suited to Cabernet Sauvignon; and not to Sangiovese, a notion with which the region has been saddled for almost two decades.

The Schutz' 2002 Cabernet is from their Guadeamus Vineyard at the 1,700-foot level. This is the ninth leaf (year) for the Schutz' vines, planted to Clone 6 – one of the majestic Cab clones. While top-heavy with those flavors you've come to expect in a $75 Napa Valley Cab – sweet vanilla and oak, chocolate, jamminess – the terroir of the region does shine through.

I recommend decanting to get to the bottom of this, so to speak. With time exposed to aeration, all that's in the carafe will meld into one delicious, well-made, and well-grown wine. If you're lucky to own a few more bottles, hold onto it for a bit and then drink it over the ensuing 20 years.

The wine was aged in half new and half 2-year-old French barrels. The listed alcohol is 14.5 percent and there were but 350 cases produced.

This Cabernet was also selected as an Appellation Signature Wine by a panel of Atlas Peak winemakers in an Appellation Discovery tasting in May, 2006.
Reviewed September 12, 2006 by Alan Goldfarb.
Other Awards & Accolades
AppellationAmerica - "Appellation Signature" selection

Bright, dark, deep color. Rich, sweet, oak-vanilla, chocolate, jammy berry notes, with slight celery in the nose. Berry with hints of vanilla flavors and mint-y eucalyptus, blackberry, dark cherry, cedar, brown sugar, and cocoa. Big, tannic structure with modest acidity finishing second. Velvet-y. Balance?...Wow! Although this wine has big tannins, it finishes creamy with nice acidity, lingering but needs time. Best tannins of all the Atlas Peak Cabs tasted; too much at first, but upon allowing it to sit in the glass, it's well-integrated.
(Atlas Peak Discovery Tasting: April 29, 2006)
Other reviewed wines from Dominari
---
Winery: Dominari
Vintage: 2002
Wine: Cabernet Sauvignon
Appellation: Atlas Peak ~ Napa Valley
Grape: Cabernet Sauvignon
Price: 750ml $75.00



Alan Goldfarb

Alan Goldfarb has been writing about and reviewing wine for 17 years. His reviews have been published in the St. Helena Star, San Jose Mercury, San Francisco Examiner, Decanter, and Wine Enthusiast, among others. Not once has he used a point system, star system, or an iconic symbol to quantify a wine. What counts in Mr. Goldfarb's criteria when judging a wine is: how it tastes in the glass; is it well-constructed; its food compatibility; and presence of redeeming regional attributes.