---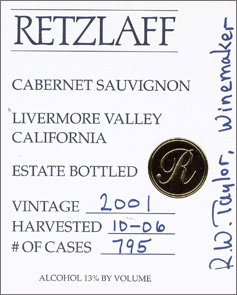 Retzlaff Estate Wines
2001 Cabernet Sauvignon, Estate
(Livermore Valley)
What a charming and personal label this winery uses. Hand-written in calligraphy, it oozes of personality. That is the whole idea behind Bob and Gloria Taylor's label, and their winery, Retzlaff Cellars in Livermore, established in 1981. Theirs is the only certified organic winery in Livermore, and they've been farming sustainably and organically for decades, so the certification is really just a formality. "For us," says Gloria Taylor, whose maiden name graces the winery, "Farming organically just came naturally." They have never used pesticides of any kind – the abundant birds keep insects in check, and cover crop is plowed back into the soil, as are all the by-products of harvest. They grow all their own grapes, and have kept to the basics for years now: Cabernet Sauvignon, Merlot, Chardonnay and Sauvignon Blanc.

If you stick to what you know, and you make wine from the same vines every year, you develop a consistency of style that grows you a big fan club over time. One of the things I love about Bob Taylor's winemaking is that it is clean and pure. Every wine tastes like it has been unmucked with: no fancy chemical interventions going on in the cellar, no latest tricks and tips employed to get better extraction or to achieve the style du jour.

This Cabernet is classic: great pepper aromas of every kind, even ripe chile peppers, with a sniff of leather and cherry. On the palate, it is like satin sheets, cool and unflappable. Flavors of dark cherry, cigar, basil, mission fig and pepper make this wine a delight. It drinks easy, with lithe tannins, yet it stands up to all your standard "Big Cab Food." The most wonderful part? It's 13% alcohol. Does anyone make a Cab under 14 anymore in Livermore? I doubt it. Retzlaff is all about clean, pure, organic and natural. This a label, a winery, and a concept, to get behind,

(Alc: 13%, Retail: $38)
Reviewed September 14, 2006 by Laura Ness.
---
Winery: Retzlaff Estate Wines
Vineyard: Estate
Vintage: 2001
Wine: Cabernet Sauvignon
Appellation: Livermore Valley
Grape: Cabernet Sauvignon
Price: 750ml $38.00



Laura Ness

A wine writer and wine judge for major publications and competitions around the country, Laura Ness likens wine to the experience of music. She is always looking for that ubiquitous marriage of rhythm, melody, and flawless execution. What is good music? You know it when you get lost in it. What is good wine? It is music in your mouth.