---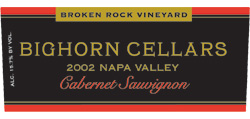 Bighorn Cellars
2002 Cabernet Sauvignon, Broken Rock Vineyard
(Napa Valley)
I usually like to tell you about the producer before I relate my tasting notes of a particular wine. In this case, however, let me cut to the chase: The wine is dark purple in color with deep blueberry and some brambly black cherry aromas. In the mouth, this Cabernet Sauvignon has deep, warm, complex flavors. It's young (hold it for two years and drink over the next 10) with beautiful fruit and earthiness and some dark chocolate. It's reminiscent, quizzically, of a Chianti Reserva. (The grapes come from near Atlas Peak, which is where Piero Antinori planted Sangiovese for Atlas Peak Vineyards in the late 1980s.)

It's also in balance, which brings me to the salient point of this report: As a matter of course – and fairness – I never look at a technical sheet provided by the wineries, before I taste a wine for review. And at all costs, I try to not know the price of the wine. I'm concerned that that information, on both counts, might prejudice my judgment. After I tasted this Cabernet, I then referred to the data to confirm my findings. I was astonished to learn that the listed alcohol is 15.7 (!) percent.

The amazing thing is not necessarily that it's so high in alcohol, because I never would have guessed it, so integrated as it is. But according to the tech notes, the grapes – from owner Bill Hill's rocky, 48-acre hillside ranch near the Soda Canyon area off the Silverado Trail – were picked at 24.5 percent Brix. It's a level of sugar that should translate to 13.4 percent alcohol.

Were the numbers a typo, or had winemaker Don Baker used reverse osmosis to concentrate the sugars? I spoke to Baker and he assured me that the numbers were correct and that he did not use osmotic pressure to get to that level of concentration.

"I can't explain it," Baker told me. "A lot of those conversions (Brix-to-alcohol) are being thrown out the window. Maybe it was because of the yeast we're using (a Bordeaux yeast). But I can't explain it."

Well then, neither do you. Just drink the wine, because it's delicious!
Reviewed September 20, 2006 by Alan Goldfarb.
Other reviewed wines from Bighorn Cellars
---
Winery: Bighorn Cellars
Vineyard: Broken Rock Vineyard
Vintage: 2002
Wine: Cabernet Sauvignon
Appellation: Napa Valley
Grape: Cabernet Sauvignon
Price: 750ml $36.00



Alan Goldfarb

Alan Goldfarb has been writing about and reviewing wine for 17 years. His reviews have been published in the St. Helena Star, San Jose Mercury, San Francisco Examiner, Decanter, and Wine Enthusiast, among others. Not once has he used a point system, star system, or an iconic symbol to quantify a wine. What counts in Mr. Goldfarb's criteria when judging a wine is: how it tastes in the glass; is it well-constructed; its food compatibility; and presence of redeeming regional attributes.