---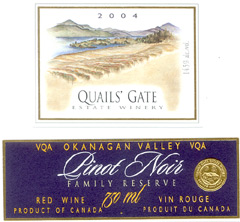 Quails' Gate Estate Winery
2004 Family Reserve Pinot Noir
(Okanagan Valley)
The Stewart family, who own Quails' Gate, have been growing Pinot Noir in the north Okanagan since 1975 and now have at least seven clones in their estate vineyards. As a result, this variety is the flagship at Quails' Gate. The winery's total production is 55,000 cases a year and a quarter of that is Pinot Noir. The very best barrels are reserved for the top tier, called Family Reserve, with production seldom above 1,000 cases a year.

Winemaker Grant Stanley, now making his third vintage at Quails' Gate, is a Canadian who trained in New Zealand. There, he was involved with seven vintages at the Ata Rangi winery of Martinborough, one of New Zealand's leading Pinot Noir producer. He is setting out to elevate Quails' Gate to the top ranks of Canadian Pinot Noir producers.

Stanley makes Quails' Gate Pinot Noir in two styles. Its more popularly available range, called Limited Release, is designed to appeal immediately, while the Family Reserve range is structured to show a Burgundian complexity with several years of cellaring. Stanley uses all the tricks available to make complex, layered wines, from fermenting with wild yeast, and blending clones and barrels. "There is so much more that Pinot Noir has to offer than just its confectionary character," he says.

This wine has a fine dark ruby hue, with fruit and oak mingling in the aroma. The flavours include spice, plum, strawberry and vanilla. The texture is still firm, with some years of evolution here to bring out all of the complexity. 87 points, with potential to move beyond 90 in a few years.
Reviewed September 27, 2006 by John Schreiner.
Other reviewed wines from Quails' Gate Estate Winery
---
Winery: Quails' Gate Estate Winery
Vintage: 2004
Wine: Family Reserve Pinot Noir
Appellation: Okanagan Valley
Grape: Pinot Noir
Price: 750ml $39.99



John Schreiner

John Schreiner has been covering the wines of British Columbia for the past 30 years and has written 10 books on the wines of Canada and BC. He has judged at major competitions and is currently a panel member for the Lieutenant Governor's Awards of Excellence in Wine. Both as a judge and as a wine critic, he approaches each wine not to find fault, but to find excellence. That he now finds the latter more often than the former testifies to the dramatic improvement shown by BC winemaking in the past decade.