---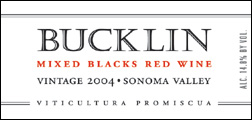 Bucklin Old Hill Ranch Winery
2004 Mixed Blacks
(Sonoma Valley)
Getting details on what's planted in old vineyards isn't easy partly because the science of ampelography (vine identification) is one of the more arcane of viticultural subjects. So Will Bucklin had a real research project on his hands when he came home to the family ranch in the heart of Sonoma Valley and began to manage the Old Hill Ranch, which gained most of its recent fame from a special Zinfandel made by Ravenswood's Joel Peterson.

Bucklin's diligent work eventually resulted in a patchwork quilt map of the dramatic ranch that shows literally a dozen different varieties of grapes here, notably some of the oldest and finest Grenache in the county.

Meanwhile, since 2000, Bucklin (who was wine maker at the highly regarded King Estate in Oregon) has been making wines well under the radar. His wine style is to emphasize the drama inherent in his fruit, not to embellish with gobs of oak, and his blending skill is evident, with the Grenache used as a top-note for racy fruit character.

Bucklin is utterly fascinated with the Grenache. He said wine makers who have taken some of his fruit say the Grenache makes a dark-colored red wine (rare for this variety that often is deficient in color).

As a result, Bucklin is using the same genetic material to plant additional acreage of it, saying he believes that more of that variety in his blends can only make the wines more interesting and complex.

This red wine is a classic example of the old-world blends that were common in the 1930s and 1940s before varietal labeling become the order of the day in California. Zin and Grenache dominate the blend, and the aroma is bits of each with spice, cranberry and plum jam. It calls for decanting for at least an hour to enjoy its bursting fruit and depth. A wine whose price simply does not do justice to its dramatic impact!
Reviewed October 4, 2006 by Dan Berger.
---
Winery: Bucklin Old Hill Ranch Winery
Vintage: 2004
Wine: Mixed Blacks
Appellation: Sonoma Valley
Grapes: Zinfandel, Grenache, Alicante Bouschet, Petite Sirah
Price: 750ml $22.00



Dan Berger

Dan Berger has been reviewing wine for 30 years, always seeking character related to varietal type and regional identity. He has never used numbers to rank wine and doesn't plan to start any time soon. He believes that weight and concentration aren't the only worthy aspects of wine and is especially smitten by cool-climate and food-friendly wines that offer distinctiveness.