---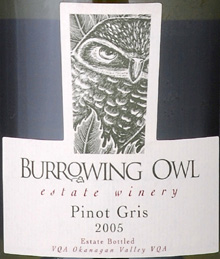 Burrowing Owl Vineyards
2005 Pinot Gris, Estate
(Okanagan Valley)
When Jim Wyse planted the Burrowing Owl Vineyard in 1993 on the South Okanagan's Black Sage Road, he and his peers had only educated guesses to guide their varietal choices. At the time, few growers had much experience with vinifera. Some mistakes were made – both Pinot Noir and Gewürztraminer were planted on sites too hot for them. Pinot Gris, however, has worked almost everywhere, making good to outstanding wines throughout British Columbia. The variety now is the second most widely planted white, after Chardonnay.

At Burrowing Owl, which also produces good Chardonnay, Pinot Gris has emerged as the flagship white. Restaurateurs almost fight to get their hands on the wine, both because Burrowing Owl has a cult following and because Pinot Gris is such a great match with West Coast Seafood. Sadly for all those restaurants, Burrowing Owl's Pinot Gris tonnage in 2005 was cut in half when it rained during spring pollination. The winery has released only 3,330 cases.

Ironically, the small 2005 vintage also was one of the finest white vintages in the Okanagan's history, producing wines with good intensity. This Pinot Gris starts with a delicate aroma that blossoms in the glass to show fruit notes, including zest of orange. On the palate, there are flavours of peach and apples, with a tangy note of citrus on the crisp finish. 87 points.
Reviewed November 8, 2006 by John Schreiner.
Other reviewed wines from Burrowing Owl Vineyards
---
Winery: Burrowing Owl Vineyards
Vineyard: Estate
Vintage: 2005
Wine: Pinot Gris
Appellation: Okanagan Valley
Grape: Pinot Gris / Grigio
Price: 750ml $19.90



John Schreiner

John Schreiner has been covering the wines of British Columbia for the past 30 years and has written 10 books on the wines of Canada and BC. He has judged at major competitions and is currently a panel member for the Lieutenant Governor's Awards of Excellence in Wine. Both as a judge and as a wine critic, he approaches each wine not to find fault, but to find excellence. That he now finds the latter more often than the former testifies to the dramatic improvement shown by BC winemaking in the past decade.