---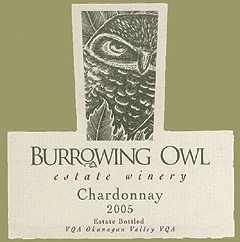 Burrowing Owl Vineyards
2005 Chardonnay
(Okanagan Valley)
This is the wine that settles the argument: Can Steve Wyse make wine as good as Bill Dyer ? …The short answer is yes.

Here's the story. Steve Wyse is the son of Burrowing Owl founder Jim Wyse. The senior Wyse hired Bill Dyer, the former winemaker at Napa's Sterling Vineyards, when Burrowing Owl was launched, beginning with the 1997 vintage. Under Dyer's hand, Burrowing Owl produced a marvellous string of vintages from its well-farmed vineyard in the south Okanagan. The reds invariably were rich in flavour and texture and the whites, including Chardonnay, had understated elegance. Dyer's understudy in the cellar was Steve Wyse, the owner's son.

Burrowing Owl and Dyer parted company rather suddenly just before the 2004 vintage. While the reason for the tension never was fully discussed, Burrowing Owl promised to keep Dyer's "recipes." And the winery has stayed true to that style, even though Steve Wyse has suffered some unfair sniping about whether or not the standard was being maintained.

Now we have the answer with this superb 2005 Chardonnay, a textbook example of subtle elegance. The aroma is fresh and clean, with a hint of toast from the barrels. On the palate, there is a delicate touch of vanilla, folded into flavours of peach and citrus. A light buttery note suggests that part of the wine at least was barrel fermented. But oak was used sparingly, as was malolactic fermentation. As a result, the wine still has exuberant fruit. There is a lively harmony to this wine and a refreshing lightness on the palate. The bottle was empty and we wanted more. You can't say that for every Chardonnay. 92 points.
Reviewed October 19, 2006 by John Schreiner.
Other reviewed wines from Burrowing Owl Vineyards
---
Winery: Burrowing Owl Vineyards
Vintage: 2005
Wine: Chardonnay
Appellation: Okanagan Valley
Grape: Chardonnay
Price: 750ml $25.00



John Schreiner

John Schreiner has been covering the wines of British Columbia for the past 30 years and has written 10 books on the wines of Canada and BC. He has judged at major competitions and is currently a panel member for the Lieutenant Governor's Awards of Excellence in Wine. Both as a judge and as a wine critic, he approaches each wine not to find fault, but to find excellence. That he now finds the latter more often than the former testifies to the dramatic improvement shown by BC winemaking in the past decade.