---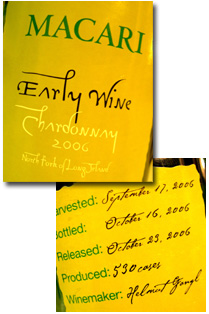 Macari Vineyards & Winery
2006 Early Wine
(North Fork of Long Island)
Le Chardonnay Nouveau est arrivé!

That's right -- Chardonnay Nouveau, not Beaujolais Nouveau.

Every fall, there is an unbelievable (and unwarranted) amount of hype surrounding Beaujolais Nouveau, the ubiquitous red wine made from Gamay in the Beaujolais region of France that is sold almost as soon as it's done fermenting. It's marketed well -- very well -- as a 'fresh' wine and we'll soon seen bottles in all of our wine shops. Some people even consider it the perfect Thanksgiving wine.

I don't care for the stuff and it's been years since I made my friends and family drink it alongside turkey and stuffing. I'd much rather drink Macari Vineyards' 2006 Early Wine -- a Chardonnay Nouveau that I look forward to every year.

And, it's super fresh. The Chardonnay grapes were picked on September 17, the wine bottled October 16 and the final product released on October 23.

Helmut Gangl, an Austrian native who is one of Macari Vineyards' part-time winemakers, created this wine a few years ago, but the newest rendition is by far the best. Rather than call it Chardonnay Nouveau, Gangl chose Early Wine, reminiscent of Jungwein ('young wine') from his homeland.

Previous vintages -- especially the 2005 bottling -- had definite sweetness, but the 2006 is bone dry and crisp. A super-pale yellow in the glass, tiny bubble cling to the inside of the glass. The nose is clean, bright and fresh with crisp apple, pear and lime aromas that are accented by faint mineral notes. A burst of lively pear, green apple and lime flavor greets the palate with terrific acidity and a surprisingly long finish.

If you want to talk perfect for Thanksgiving, talk about this wine, which can also stand in for Riesling with spicy Chinese, Thai or even Mexican fare.
Reviewed November 13, 2006 by Lenn Thompson.
Other reviewed wines from Macari Vineyards & Winery
---
Winery: Macari Vineyards & Winery
Vintage: 2006
Wine: Early Wine
Appellation: North Fork of Long Island
Grape: Chardonnay
Price: 750ml $14.99



Lenn Thompson

Lenn Thompson writes about New York wines for Dan's Papers,
Long Island Press, Long Island Wine Gazette, Edible East End and Hamptons.com. Two words describe his taste in wine — balance and nuance. Lenn prefers food-friendly, elegant wines to jammy, over-extracted fruit bombs and heavy-handed oak. When reviewing, Lenn tastes each wine three times — alone right after opening, with food, and again the next day — believing that 90-second reviews are unrealistic and not how the average person enjoys wine.