---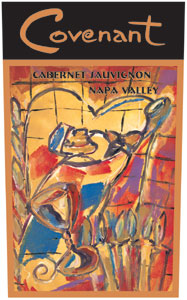 Covenant
2004 Cabernet Sauvignon, Larkmead Vineyard
(Napa Valley)
Covenant, in its second release, is a joint venture between former wine journalist (Wine Spectator) Jeff Morgan – now a cookbook author and winemaker – and Leslie Rudd, owner of the prestigious Rudd Estate in the Napa Valley.

The grapes for this kosher wine come from 12-year-old vines in the historic Larkmead Vineyard (which dates to the late 1800s) just south of Calistoga. The wine is not fined nor filtered. That helps a lot. But what makes this a great wine – and in three or four years when it begins to mature, it will be a fabulous wine – is that it has all the elements to make it so. That is, the fruit is delicious, the acids are perfect, and the balance puts the weight indicator right in the middle of the scale.

Note, however, that just because this is a kosher wine, it doesn't mean that it's not a fantastic wine. Because not only is this not your grandfather's kosher wine, it's not even your father's kosher wine.

This wine has not been flash-pasteurized as is the regimen with most kosher wines, which tends to make the fruit muted. Here, the fruit is bright and bold as all get-out.

Morgan (who, in the interest of full disclosure, is a friend) schleps the 400 or so miles each way from the Napa Valley to Oxnard north of L.A., where he makes the wine at kosher producer Herzog Cellars. I also have to tell you that I didn't much care for his first Covenant from the previous vintage. It wasn't nearly as good as this wine, and more than a few old-timers groused at the price. "Vat, 85 dollars for a kosher wine?" they kvetched.

But this wine is worth the price tag. Hold onto it for a couple of years and then drink it over the next 20 Passovers or on any other occasion. The listed alcohol is 14.4 percent; sixty-percent new French oak was used; and there were only 532 cases produced, such a shame.
Reviewed November 22, 2006 by Alan Goldfarb.
---
Winery: Covenant
Vineyard: Larkmead Vineyard
Vintage: 2004
Wine: Cabernet Sauvignon
Appellation: Napa Valley
Grape: Cabernet Sauvignon
Price: 750ml $85.00



Alan Goldfarb

Alan Goldfarb has been writing about and reviewing wine for 17 years. His reviews have been published in the St. Helena Star, San Jose Mercury, San Francisco Examiner, Decanter, and Wine Enthusiast, among others. Not once has he used a point system, star system, or an iconic symbol to quantify a wine. What counts in Mr. Goldfarb's criteria when judging a wine is: how it tastes in the glass; is it well-constructed; its food compatibility; and presence of redeeming regional attributes.