---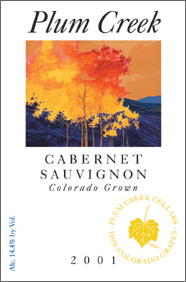 Plum Creek Winery
2001 Cabernet Sauvignon
(Grand Valley)
Plum Creek Winery owner Doug Phillips has spent years experiment with trellising techniques, and settled on the Geneva Double Curtain (GDC) trellising system for Plum Creek's Cabernet and Merlot vineyards near Palisade. This system, he notes, "slows down the growth of overly vigorous vines and puts that energy into fruit growing. Also, the high position on the fruit zone of the vine allows for excellent exposure to sunlight. With ample sunlight, full ripe-berry flavors and deeper color will develop, along with more even ripening of the grapes."

This plummy red shows the kind of character and structure that Colorado can achieve in good vintages like 2001. This Cab has great color, fine currant-like fruit with accents of black cherry. Firmly structured and with great length, it is drinking well now but has several years ahead of it. The wine garnered a Double Gold at the International Eastern Wine Competition.

The 2002 Plum Creek Cabernet Sauvignon is similarly structured and very good, with pronounced blueberry aromas and flavors.
Reviewed November 29, 2006 by Barbara Ensrud.
---
Winery: Plum Creek Winery
Vintage: 2001
Wine: Cabernet Sauvignon
Appellation: Grand Valley
Grape: Cabernet Sauvignon



Barbara Ensrud

Barbara Ensrud has been writing about and reviewing wines since 1979, with a nationally syndicated column for the New York Daily News and numerous other publications. Her "no numbers" approach to evaluating wine is simple: how does it taste – on its own, as well as with particular foods? Is it good value, whether $10 or $210? Does it measure up in terms of varietal character and regional identity? …"When I taste a good wine, I can't wait to share it with fellow wine lovers."