---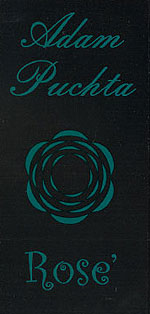 Adam Puchta Winery
2004 Rosé
(Hermann)
If you can get it, get it. This "Old World" rosé can't be compared to the overly sweet, meaningless rosés that have spoiled many of us on the rosé style. Puchta runs fermentation to dryness with this blend featuring the Norton grape. Holding off deep color in this heavily pigmented grape is no mean feat; I imagine the time from crusher to press was measured with a stopwatch.
The complexity typical of Norton is tempered into a clean pink wine bearing raspberry and mango aromas. This elegant wine reveals added dimension in the tasting: black cherry and the other less frivolous aspects of Missouri's favorite grape. The finish is short and will leave you wanting more.
For the price, get at least two bottles. Quantities, however, are quite limited.
The Adam Puchta Winery is celebrating its 150th anniversary this year. Over the decades, stainless steel has replaced oak, but the winery grounds still reveal a rich history. Now they use only stainless fermenters. The oak in their Chardonel, Norton, and Legacy (an equal Norton and St. Vincent blend) are from staves rather than barrels.
$14.99/750ml
Reviewed October 24, 2005 by Tim Pingelton.
---
Winery: Adam Puchta Winery
Vintage: 2004
Wine: Rosé
Appellation: Hermann
Grape: Norton / Cynthiana



Tim Pingelton

As a professional winemaker and writer, Tim Pingelton understands how growing conditions and vinification techniques affect the grapes as they become wine. As an Appellation America correspondent, he realizes that a balance must be struck between standards in flux and standards fixed in time. Tim continually explores the areas about which he writes to personally relate how their wines do or do not embody appellation-specific characteristics.