Anderson Valley's Seductive Pinots
Few locations in California can compare to Anderson Valley in its combination of coolness and long growing season. While this lends itself to a great Riesling spot, it surprisingly is Pinot Noir nirvana as a recent Best-of-Appellation™ tasting proved.
by Clark Smith
April 23, 2009
---

he Pinot Noirs of southwest Mendocino County
's unique coastal valley possess one of the most consistent and easily recognizable aroma signatures in California. You can depend on it. Whether it's the Blanc de Noir sparklers of
Roederer Estate
or the up-Valley Burgundian-style reds, you can bet that a sweet plum blossom perfume will instruct your nose - this is from
Anderson Valley
, and nowhere else on Earth.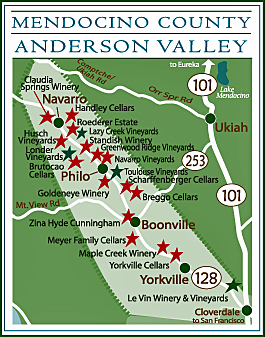 It's a mystery why this aroma marks this varied terrain so universally. This ten mile gash in the coastal mountains is created by the Navarro River, and is bathed seemingly daily in coastal fog. Its 26 wineries have struggled for over three decades with determining the combinations of clone and rootstock to pull the best from its varied terrains in chilly years and in balmy ones. That struggle may be the key, for few spots in California can compare to Anderson Valley in its combination of coolness and long growing season. Sure enough, the region is also widely acknowledged as one of the State's few serious Riesling enclaves, likened to
Alsace
.
A hundred years ago, vintners didn't bother with the Valley floor, deferring to apple and pear growers, and restricting their efforts to high on the 200-foot ridge lines (hardly Pinot country), where they planted heat-loving
Zinfandels
, now in their second century, which still produce the splendid wines of
Edmeades
and others. But in 1982, Roederer took a 580-acre plunge with valley floor Pinot for sparkling wine production, beginning a Pinot boom that continues to this day. Savvy
Navarro Vineyards
owner Ted Bennett talks about three subregions here where Pinot is king: the cool, fog-bathed 350-foot valley floor around Philo, the scattered, irregular hillside plantings at 1000-1,400 feet above, and the warmer sites up-river in Boonville where fruit ripens two weeks earlier.
Life in the Slow Lane
Fashion is a little out of step in this verdant valley where it seems always to be spring. A little too remote from Bay Area bustle to fill its weekend roads with casual tourists, Philo still receives its share of intrepid wine lovers, because it has preserved the feeling of wine country at its purest. It's no surprise, then, that its Pinots seem completely untouched by the twin plagues of current vogue: Sideways madness and the hangtime disease.
California is known for the
Big Wine
. In an attempt to cash in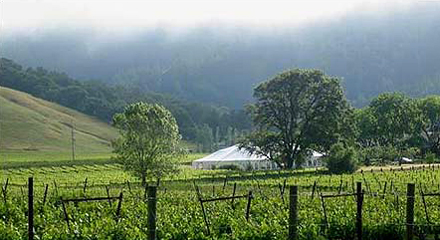 on this reputation, many of its winemakers have discovered extended maturity as a means to increase forward fruitiness, tannic forcefulness, and of course, alcohol wallop. These wines often search for impact at the expense of age worthiness, and explosive fruit replaces flavor depth. And of course, a boatload of cheap oak never hurts.
For a long time, Pinot Noir remained untouched by this trend, hiding away outside the mainstream as an enological high wire act, pricy to grow, tricky to make, and too dainty and elusive to excite the novice to shell out big bucks. I mean, dude, is it
supposed
to be that wimpy? For a decade, Pinot Noir was my favorite choice in a basic restaurant, because it dependably matched with lots of types of food and didn't dominate table conversation. For winemakers, Pinot was the One Pure Thing where you proved your skills, and you just tried not to make too much and lose your shirt.
No more. Five minutes of
Sideways
extolling Pinot and belittling Merlot, and now we have a tidal wave of ex-Merlot-ites chugging the new rage beverage. But only if it looks and tastes like – you guessed it – overblown, overoaked Merlot. This would be impossible were it not that the law allows blending in of "Pinot Helper" –
Syrah
,
Alicante Bouschet
, and
Mega Purple
, the $100-a-gallon ruby-red color concentrate. So an innocent filmmaker's attempt to elevate America's palate has instead paved over this eclectic winemaking playground and built high rise blockbusters where it used to be. Except here.
Hiding Out From Hollywood
In a place where they even have their own language –
Boontling
– market trends thankfully don't have much sway. And this cool, fog laden valley may not permit winemakers to produce the macho styles of current fashion, even if they wanted to. Thus we did not find any "Impact" wines here. We sorted the seventeen Pinots achieving
Best-of-Appellation
™ status into three consumer categories.
"Ethereal"
– Seductive wines of great aromatic mystery, usually expressing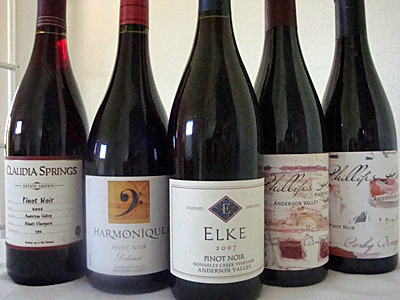 complex perfume rather than fruit. These may be very light-colored wines, dense in aromatics rather than necessarily possessing much structure. Redolent with violets, lavender and plum blossoms, these wines contain the essence of the AVA's unique character.
Harmonique 2005 Delicacé Pinot Noir
Elke Vineyards 2007 Mary Elke Pinot Noir, Donnelley Creek Vineyard
Claudia Springs Winery 2006 Pinot Noir, Klindt Vineyard
Phillips Hill Estates 2007 Pinot Noir, Corby Vineyard
Phillips Hill Estates 2007 Pinot Noir, Toulouse Vineyard
"Solid"
- Clean, balanced wines with structural integrity and ageability. This style may be somewhat closed and hard in youth, and can require sophisticated skill to appreciate their subtleties in youth.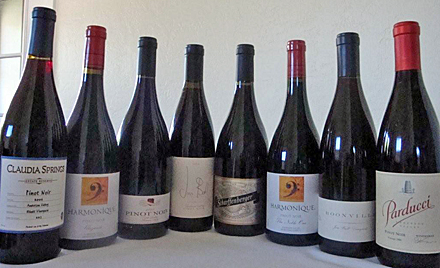 It's not power or density, but rather their exceptional grace and balance that gives me confidence to recommend the following list for cellaring.
Claudia Springs Winery 2006 Reserve Pinot Noir, Klindt Vineyard
Jim Ball Vineyards 2007 Boonville Pinot Noir, Middleridge
Harmonique 2005 Elegance
Scharffenberger Cellars 2004 Pinot Noir
Roederer Estate 2006 Pinot Noir
Jim Ball Vineyards 2006 Pinot Noir
Graziano 2006 Reserve Pinot Noir
Parducci Wine C

READER FEEDBACK: To post your comments on this story, click here
Print this article  |  Email this article  |  More about Anderson Valley  |  More from Clark Smith