PS, How Do I Love Thee?
Let Me Count The Ways
You gotta like 'em big. Beyond that, this varietal offers perhaps more diversity than any other, in the climates that will accept it and the character of the wines it produces.
by Clark Smith
November 10, 2008
---

really had my doubts.
An entire day of Petite Sirah tasting? I have seen regional character manifest in so many places and varietals that I've grown to expect a distinctive flavor signature, and it's my job to find it and define it. But going into a whole day of strictly
Petite Sirah
, I just wasn't sure. Enjoy them though I do, I had simply never given regional distinctiveness a thought. I like 'em all. The wine is so different from anything else that sense of the grape rather than sense of place has always dominated my thinking. Sure, I've judged big flights of PS, but always blind – never with the regions identified and grouped together.
Read your Alexis Lichine, your Frank Schoonmaker, your Andre Simon - Petite Sirah is not a noble grape. Whatever that means. So I thought, maybe that's because they all taste the same. Terroir-challenged. A heartless factory grape.
It's baloney. Turns out that, when you actually look, Petite Sirah reveals itself as quite clearly reflective of region. In fact, when New York Master Sommelier Darrin Siegfried asked for a suggestion for a variety to display regional differences, I recommended it. "The Petite Sirahs worked out even better than I hoped for," Brooklyn's top palate reported back.
And the traits are just what you might expect. The Howell Mountain wines are breathtakingly hard, just like the Cabernets, while the Russian River wines are round and supple and full of cherry aromas, just like the Pinot Noirs.
A Brief But Colorful History
Carole Meredith, the famed grape geneticist at U. C. Davis, resolved the controversy of the grape's origin in a
1998 paper
. Though occasionally mistakenly misnamed, the preponderance of Petite Sirah in California is identical with the French grape Durif. This varietal is named after the Rhône-based nurseryman who, in the 1880's, introduced Syrah pollen to an obscure variety called Peloursin from the mountainous region of Isère, and then planted the resulting seeds, later selecting from the vines the full-flavored, well colored variety resistant to powdery mildew which carries his name.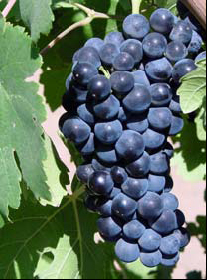 The new grape's compact clusters and resulting susceptibility to bunch rot meant that it did not do well in its native Rhône, languishing in obscurity and often confused with its equally tight-clustered parent Peloursin. It was not until it was exported to the drier climate of California that it was to prove its value as a workhorse red varietal, which could be counted on for muscle, color and body.
Even in California, any grower will tell you that PS is a nightmare to grow. It rots. The tightfisted bunches and thin skins beg for
Botrytis
. And don't get excited - there is nothing noble about this rot. Grey slime, sour rot and unstable color really puts the "ick" in Yquem. The variety never became a superstar in the Rhône, where the loose-clustered Syrah is preferred. Ask any Frenchman – Petite Sirah is not a
cépage noble
.
What the heck
IS
a noble variety, anyhow? Historically, it probably stems from grapes that supported the famous wine regions of Europe by consistently delivering great wines for the top producers. The key word in that sentence is "Europe." The ability to make the Big Wine. If we look at the short list of noble grapes – Cabernet Sauvignon, Syrah, Chardonnay and Riesling - one trait sticks out: the ability to survive extended hangtime, to improve on the vine in the rainy late autumns of the continent. Its lack of rot resistance may well have crossed Durif off the list.
vin piqué
not only for the lot in question, but sometimes spreading almost overnight throughout the winery, sticking every tank. Not very noble behavior.
But in the dry climes of California, rot pressure, while still a matter of concern, does not trump the grape's offsetting virtues. In the land of the free, Petite parades itself as nobly as any other grape, with West Coast sunshine to combat the tendencies of its compact, pinecone-shaped clusters, their berries squeezed into squares like tannin hand grenades to the delight and awe of New World winemakers.
And as it turns out, Petite Sirah is capable of great regional variability. In retrospect, the reasons seem obvious. Aromatics, color and tannin. All abound in the grape, and the development of each appears strongly influenced by place. In my companion piece,
Sources of Regional Diversity in Petite Sirah
, serious geeks can follow my sleuthing into what makes this varietal tick. The short version is:
Color: Hits the max with moderate heat and lots of sunlight. When it's too hot or cold and foggy, color is less intense.
Tannins: Adequate warmth and lower yields increase tannin content. Tannin character is controlled by water availability, so deep clays give soft, round, sweet tannins, and droughty sites with good drainage give harder, more structured tannins. The hardest are high altitude sites with west-facing slopes.
Terroir aromatics: Unsurprisingly, distinctive aromas of local vegetation show up in the wines grown among these scents. High deserts impart aromas of sage and bay, while vineyards with eucalyptus windbreaks smell of mint, and coastal forests bestow juniper and cedar aromas.
Fruit aromas: Who knows why, but fruit aromas sure do vary. Red Fruit, black fruit, citrus and floral scents parallel what we see in other varietals. For now, all we can do is take note of what we see.
We grouped the many examples of high altitude Petites together to see if we could find common threads which set them apart as a group from their downstream cousins. We flanked this group with the Suisun Valley on one side, noted for its cool but fogless conditions and deep c

READER FEEDBACK: To post your comments on this story, click here
Print this article  |  Email this article  |  More about America  |  More from Clark Smith