Santa Cruz Mountain Bordeaux Varieties: The Real Deal
Other wine regions of California might get more attention but now's the time to take a look at this overlooked jewel, producing some of the best wines in California.
by Clark Smith
January 12, 2009
---

wasn't expecting a hat trick.
In this our third leg of Santa Cruz Mountain evaluations, and as blown away as I was with the Burgundian varietals in the first two tastings - the concentration and wildness of the
Chardonnays
, to say nothing of the power, depth and epic expressiveness of their
Pinot Noirs
- I approached the prospect of a survey of Santa Cruz Mountain Bordeaux varietals with equal parts curiosity and trepidation.
You can't make money in this region. These tiny labors of love exist for one purpose only – excellence. Whether they're ego-driven or on a spiritual quest, these guys (including plenty of extraordinary women) are the real deal. Always artisanal, never industrial. More likely punched down than pumped over. No discussion here of megapurple, overcropping, or even screwcaps.
Yet how could the same region conquer Bordeaux? After all, these mountains are pretty cool – hence the concentration of the Pinots. So how could we expect richness from the heat-loving Cabernet? Pinot's success seemed to predestine Cabernet's failure. An additional concern I carried was that even the Chardonnays show complex herbal aspects. Owing (I surmise) to postage stamp-sized vineyards surrounded by local vegetation, they were unsurprisingly redolent of sage, juniper, mint, mustard and bay. I wondered if this phenomenon, combined with the cool climate, might push Cabernet over the top, veggies-wise. A little too much terroir, maybe?
Of course, I knew the Ridge Monte Bello, heralded by Jancis Robinson and others as the best of the California breed. But that's cheating. A unique Franciscan shale site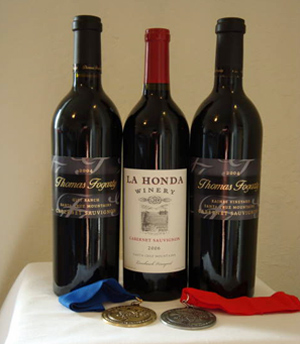 half a mile skyward, with a master like Paul Draper intently at work for forty years, an assembled staff of skilled pros – hardly the typical case. What would relative newcomers do with fruit from the bizarre conditions lower down the hill?
I was fresh from our examination of Monterey County in
That Ain't No Termato, That's My Wine
, in which I chronicled their successful struggle against the veggies in an unexpectedly cool climate. A principal strategy they employed was to stop growing Bordeaux varieties in the cool areas. I'm a regular fan of Cabernet Franc, and I speculated that this might be the Graves of California, perhaps more suited to it than to the later ripening
Cabernet Sauvignon
.
I was dead wrong on all counts. I was ready for anything except what I actually found. These wines are
lush
. Planted on the warmer, fog-free niches, they astonish the palate with rich fruit. Even more surprising, they carry none of the remorseless tannin so common in other California mountain regions. The tannins can be hard, to be sure, but with good manners - an armored fist in a velvet glove. And although we certainly find those herbal influences which evoke sense of place, there simply is no bell pepper in these wines. Everything but: exotic spices, complex herbs, and juicy fruit compotes of every description.
The take-home message for wine lovers? Relax and enjoy.
To winemakers and other wine geeks, the lesson is this: These mountains show us that it is not coolness, but lack of sunlight, that causes Cab to veg up. These splendid wines make it apparent that a cool vineyard that gets good light exposure can be a pearl of great price. The bell pepper pyrazines manufactured in shaded fruit are evidently a sort of flavor camouflage whose job it is to repel birds from eating immature fruit. Shaded fruit. Where water and nutrients are plentiful, Cabernet is
sauvage
because it is vigorous.
But not here. Bell pepper flavors are dispelled by sunlight. The region's thin, limiting soils and drought-prone conditions force laughably small yields, usually less than 2 tons to the acre. In the upper reaches of the Santa Cruz Mountains, plenty of light penetrates these feeble canopies, amplified in high altitude's thinner, fog-free air. Cooling coastal breezes keep the fruit aromas fresh, suppressing sunburn and raisining.
This naturally restricted crop yield does not unbalance the vine as it might on some rich valley floor vineyard. There, crews of workers drop green clusters on the ground in June, forcing the vines to put their energy into shade leaves which then must be plucked. But here, natural soil limitations do all the work, and the result is concentrated fruit flavors.
Pray tell me what other New World region successfully takes on the best of Burgundy and Bordeaux? Pretty unique stuff. Where else on the planet can you combine ocean influence, mountain altitude, water-buffering soils, urban chic and silicon billionaires? Hey, I ask you - what would you do? Right. Go plant some vines.
Blue Book: Cabernet Sauvignon
Within the context of its well-known stern demeanor, Cab is well appreciated for its breadth of expression. It somehow possesses the ability, throughout its native Bordeaux, to express unique and recognizable characteristics for every classified chateau. Here, too, in these most posh and upward Bay Area suburbs, the stamp of the individual properties is the main story. With apologies to you, the reader, I must refer you to our notes on the individual wines in order to read that story of
diversity
. Here, I will set down instead the
collective
trends we saw, to tell the story of regional identity as it so clearly distinguishes itself from other AVAs you may know.
Our job here is to distill the essence which sets SCM Cabernet Sauvignon apart. That isn't difficult. To begin with, much of what we have grown to expect from the varietal is not present at all. You will find no bell pepper, little tobacco, and only background aromas of black fruit.
Foremost are lush aromas of orange peel, strawberry and cherry. Supplementing these fruit aromas, which perhaps characterize cool fruit at altitude, one encounters herbal perfumes of place which probably arise from local plants: juniper, cedar and wildflowers in the cool, moist areas, and on the high droughty summits, there is sage, thyme, lavender, and bay. The phrase kept coming up, "Resiny, but in a
good
way."
A widespread mystery of the world's great reds finds voice here. It seems that when an ideal balance is achieved in vine energy, water availability and ripeness, we get violets. Lots of violets. Somehow the elements of structural grace, poise and concentration so often are, at their finest, accompanied by a royal clarion tone of deep purple perfume. Beats me. But look for it here.
Despite their mountainous origins and low yields, these wines rarely present aggressive tannins. Even when hard and closed, they will still have grace and generosity. Lush, sweet fruit typical

READER FEEDBACK: To post your comments on this story, click here
Print this article  |  Email this article  |  More about Santa Cruz Mountains  |  More from Clark Smith