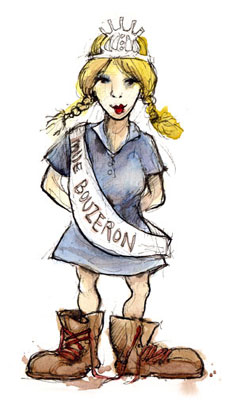 Aligote
You're the little farmer's daughter who rarely gets much attention. We watch you work the fields on the windy hilltops of Burgundy and are amazed that your light frame doesn't blow away. Can we blame you for being a little sour? Your sibling Chardonnay steals all the attention. Your hard-working nature is not without appeal. You've worked your subdued charm on more than a few working-class regions, from Eastern Europe to the Pacific Northwest. Who else would wear the sash of a place called 'Bouzeron' with such pride?

Appellations Growing Aligote Grapes
Appellations producing the most Aligote wines:
Aligoté

In North America, Aligoté's cold-weather tolerance has provided it with homes in Washington State, British Columbia and Ontario, as well as some temperate areas of California. More cold-resistant than its big sister, Chardonnay, Aligoté is widely grown in the cold climes of Eastern European wine-producing countries such as Russia. In Eastern Europe Aligoté is a highly regarded varietal for still and sparkling wines alike. Possessing similar, but less pronounced, character than Chardonnay, it is usually lighter in weight, more acidic and less age worthy. In its Burgundian homeland, this white grape is often restricted to cool hilltops, among other less ideal locations in the Côte D'Or. Aligoté wines from Burgundy command only a fraction of Chardonnay prices for growers. Aligoté's influence more broadly in France is diminishing and total plantings dropping. Its best expression is in the Bouzeron AOC, located along the northern border of the Côte Chalonnaise, where it is the only allowable grape. This unique and modestly-priced appellation's most famous producer, Aubert de Villaine, is ironically the co-owner of Domaine de la Romanée Conti, which produces some of Burgundy's best and most expensive Pinot Noirs.