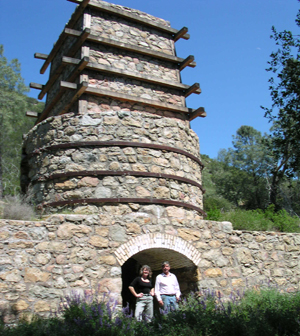 The Limestone Chronicles:
How Josh Jensen Mines
His Coveted Pinot Noir
Calera Wine Company owner and winemaker Josh Jensen fell in love with the wines of limestone-influenced wines of Burgundy and decided to turn that love into his life's work. Referred to as one of America's Grand Crus, the Jensen Vineyard Pinot Noir wine on Mt. Harlan is widely acclaimed.
by Laurie Daniel
January 3, 2008
---
Laurie Daniel (LD):
When you decided to look for a place to plant a vineyard, the presence of limestone was important to you. Why?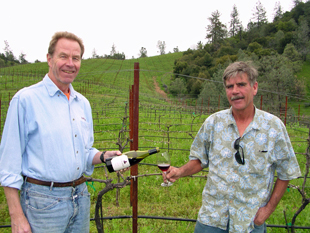 Josh Jenson (JJ):
Limestone is what the source location has, the Côte d'Or. Not only do they have it, but when you get a few hundred yards down off the slope, at the bottom of this 30-mile-long limestone ridge, down on the deep alluvial river plain, they don't even plant Pinot Noir out there. They've learned over the centuries that Pinot Noir and Chardonnay grown out there on the deep alluvial soils just make boring wines.
LD:
What do you think limestone imparts to the wines?
JJ:
I think what it imparts to the grapes, the juice, and consequently the wine, is complexity. I have no idea how or why it does that, not being a scientist or botanist. But it just seems that when you taste red Burgundies that are grown on the limestone soils, then you compare that with the stuff that's grown 300 yards away, out on the deep alluvial soils that don't have limestone influence, the former is complex and has subtleties and secondary and tertiary flavors and aromas, and the latter doesn't. It's just one-dimensional. It's just grape juice.
LD:
Do you think limestone contributes to the wine's ability to age?
JJ:
I do. Perhaps partly because the limestone-derived hillside soils are poor soils, so you get smaller crops. Smaller crops definitely contribute to longevity. Also, just the texture of the wines - with more oomph or more structure or more flavors packed in – probably helps it age.
LD:
In addition to limestone, was there anything else you were looking for?
JJ:
Limestone was so far in number 1 position that you could almost say it was the only thing. It had to be good weather. Obviously if I found limestone in Death Valley or at the top of Mount Whitney, it would be a failure. The weather had to be good. In California, that means not too close or not too far from the ocean. Also a consideration is you can't really be on the outskirts of a town, because then the town's going to grow out. I didn't want to put in vineyards and 32 years later - which would be today - be forced out by real estate developers.
LD:
You certainly found a remote enough place. What sort of obstacles did you face in planting a new vineyard in such a remote area?
JJ:
The main one is no electricity. Everyone who has vineyards has a shop there, and they've got lights and saws and pumps, and their irrigation is all done with electricity.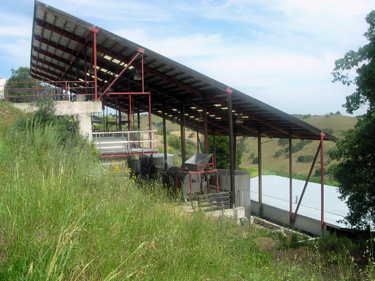 Back then we didn't have electricity or phones or paved roads, and still today we have no electricity or phones or paved roads. It's a four-and-a-quarter mile drive on an initially very steep dirt road, so when it's raining and even a day after a big rain, we can't even get up to the vineyard. So to people who've always farmed with electricity, those would look to be insurmountable obstacles. But we've figured out ways to do it.
LD:
What did you figure out?
JJ:
We use diesel power for pumping from our reservoir and our water tanks out into the vineyard. We use a diesel generator to run our two very deep wells - each of which are a thousand feet into the ground – so we have a big diesel generator there, and that runs the submersible pump.
LD:
Some of the individual parcels in the vineyard, such as Selleck and Reed, are quite small, five acres or less. Why did you decide to keep the individual parcels separate?
JJ:
Because I came from Burgundy. That's where I did my apprenticeship. Those people there would sooner sell their son into slavery than combine the wine from Gevrey-Chambertin and Chambolle-Musigny. It's just inconceivable. People always ask me that question. I say, well, if a few years into this we see that the wines all taste exactly the same, then we might consider (blending them). But right from the get-go, they had very different flavors, and those differences have increased as the roots have gotten down deeper. … They're picking up all those nuances and mineral inputs from all that deep geologic material, and that increases the expression of terroir and increases the differences in flavors between them.
LD:
I know this is like asking you to choose among your children, but do you have a favorite?
JJ:
Well, it is like asking you to choose your favorite children, but if you just refer to our prices, the price differences show what we think the relative objective quality is. So Selleck is our most expensive, then going down in price, Jensen, Reed, Mills and our new one, the Ryan.
LD:
A few of the parcels in your vineyard have vines planted on their own roots. Why did you decide to do that? Do you think it makes a difference in the wines?
JJ:
Whether it makes a difference in the wines - I don't really know how we could ever figure that out. For Pinot Noir, it's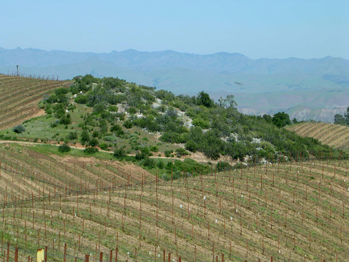 just the Mills Vineyard. The original Chardonnay block, which is 6.1 acres, is immediately contiguous to the Mills - they were planted the same year, 1984 - and it also is on its own roots. Finally, about 60 percent of our Viognier, the block that we planted in 1989, is on its own roots.
So why did we use rootstocks with the initial plantings and then in the second wave of plantings in the '80s, do own-rooted? That's because that was the recommendation of the UC-Davis and extension people at that time. Much of Monterey County was planted in the '70s on its own roots, because they just said, look, phylloxera is dead and buried. It's like ancient history. It's gone. You don't have to worry about it anymore, so don't go to the expense of having grafted plant material. So we did plant those three things, and then shortly after we planted the Viognier block on its own roots in '89, I started reading articles about phylloxera being seen in a few vineyards in Napa County. So the big surge of planting that we did in 1997 and 1998 were all on rootstocks.
So far, the own-rooted plantings are doing fine. We get the crops much earlier on them. It's an easier thing to grow than a grafted plant. ... I think what's saving our bac