Alma Rosa Winery and Vineyards: winery information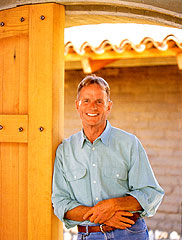 Winemaker: Richard Sanford
Richard Sanford came to the Santa Ynez Valley 35 years ago with the desire to create wines that would rival the best of France. First to recognize the potential of the Santa Rita Hills (now an officially accredited American Viticultural Area as Sta. Rita Hills), and first to plant Pinot Noir vines there, Richard is a pioneer with a well established reputation for excellence in winemaking.
Estate Vineyard Acreage
Working in partnership for more than 30 years, Thekla and Richard Sanford founded multiple, successful winegrowing enterprises. Their latest venture, Alma Rosa Winery & Vineyards, represents the culmination of a lifetime's experience – an enterprise dedicated to creating high quality wines and setting a benchmark for organic farming, sustainable agriculture methods, and environment-friendly commerce.

With over 100 acres of certified organic vineyards in the Sta. Rita Hills, Alma Rosa Winery & Vineyards focuses on continued excellence in Pinot Noir and Chardonnay, as well as Pinot Gris, Pinot Blanc, and Pinot Noir - Vin Gris (a dry rosé). All wines are food friendly and display the high acid, and extraordinary balance for which Richard Sanford's wines have been known since 1976.
Grape Varieties Planted