Cinnabar Vineyard and Winery: winery information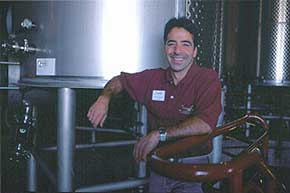 Winemaker: George Troquato
Winemaker George Troquato always knew he would be in the farming business. "I love agriculture… it follows the seasons," says George. There is a beginning, a middle and an end. You do your best to make a wine; then it takes on a life of its own."

George was born in the southern California city of Riverside. A move north brought him to the town of Los Gatos in 1966. He was an active member of the Future Farmers of America while attending Campbell's Westmont High School. His father's grape growing and winemaking hobby introduced George to the wine industry in his pre-teen years. "I cut my teeth on old vine zinfandel from the Santa Clara Valley, says George. "Winemaking at the age of 12 is anything but romantic. While other kids were playing baseball, I was helping my dad with a winemaking hobby that became a commercial winery in 1985."

Intent on continuing the family winemaking tradition, George graduated from the California Polytechnical Institute (Cal Poly), San Luis Obispo in 1985 with a degree in crop science. George gained valuable cellar experience at a few other wineries before joining Cinnabar in 1990. He helped his father at Troquato Vineyards from 1985–88, worked at J. Lohr in 1989 and 1990, and spent the summer of 1990 in the Beaujolais region of France.

"I can't imagine a more hard working, loyal and committed employee," says Owner Tom Mudd about his winemaker. "George challenges the status quo and pushes everyone else. In fact, he literally ran from task to task in his early days at Cinnabar."

Away from the winery, George enjoys quality time with his wife Kristi and daughter Camilla. They have two pets: a Vizsla named Oliver and a Chinese Fighting Fish. He also enjoys cooking, gardening, snow skiing and rollerblading. His favorite food is grilled lamb chops with fresh garlic and rosemary accompanied by a bottle of Cinnabar Santa Cruz Mountains Pinot Noir. He continues to help his father make wine and farm heirloom tomatoes.

George has a profound understanding about the finality of winemaking: "Mother Nature makes a different offering every year, but you only get 20 to 30 vintages in a lifetime." With many successful harvests under his belt, he is making the most of the opportunity.
Annual Production: 15,000 cases
Estate Vineyard Acreage
12 acres planted in Chardonnay, Pinot Noir and Cabernet Sauvignon.
Grape Varieties Planted